Members of the District of Kitimat council vote on Nov. 7, 2011, in favour of releasing three internal consultants reports that had been commissioned to ease the council's dysfunction and improve relationships among members. (Robin Rowland/Northwest Coast Energy News)
Apparent demands for confidentiality from the companies that plan to locate in Kitimat, or may locate in Kitimat, have thrown gasoline on the flames of long existing tensions that exist on District of Kitimat council.
Those tensions, which have not been that apparent in recent meetings, but have been reported in the past three years, flared up Monday, Nov. 7, 2011, when Councillor Randy Halyk, a candidate for mayor in the municipal election two weeks from now, introduced a motion to publicly release three consultants reports on internal dysfunction and personality conflicts in the council.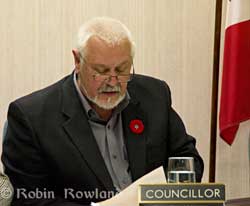 Halyk then accused the current mayor, Joanne Monaghan of withholding information from the rest of
council "on numerous occasions."
As Monaghan sat by stoically, Halyk listed his grievances against the current mayor: "Meeting with industry people or government on the sly, signing
letters of intent without council's blessing or even their knowledge,
discussing in camera topics with non governmental groups, yet not
communicating with council on important matters…A mayor, as part of council, should promote teamwork and yet… it has not happened in the last three years."
Retiring councillor Gerd Gottschling joined Haylk, accusing Monaghan of not following the usual collegial practices among municipal councils, keeping council members out of the decision making process. "I believe this is a team effort, we are a team and you are our leader, and when we have to make decisions, we need information to make those decisions."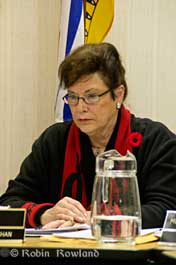 Monaghan replied by simply saying that she had had conversations with various industry representatives visiting Kitimat and that often those people visiting Kitimat had requested confidentiality. She emphasized that she had never signed a letter of intent without disclosing information to District Council.
Between 2009 and 2010, the council hired three different consulting firms to help facilitate the operations of the council, help members to overcome their differences. Previous attempts to release all or part of the reports failed in the past.
Much of the debate went over old grievances, including a time a BC cabinet minister had requested a meeting with Monaghan where council members were excluded. A couple of councillors pointed out that the three consultants reports could have been released at any time between 2009 and 2011 and that two weeks prior to an election was not perhaps the best time.
Halyk said that the council had "run by the seat of its pants for the previous three years," pointing out that the council had to scramble to deal with the closure of the Eurocan paper plant and didn't deal with it very well and said that was one reason he was standing for mayor.
Council then voted to release redacted copies of the reports, with one member, Mario Feldhoff, voting against, the rest, including Mayor Monaghan, voted in favour.
It was not the first time that demands for confidentiality have been raised in Kitimat. During the June National Energy Board hearings on the Kitimat LNG project, counsel for the KM LNG partners, Gordon Nettleton, requested that the project be exempt from certain NEB disclosure requirements to satisfy the stricter confidentiality demands from Asian natural gas customers, a request that the NEB granted in its decision.
So, in effect, when the Asian LNG rush began last spring after the Japanese earthquake, Monaghan, whose practices and personality did sometimes cause tensions with the rest of the council, was getting demands from potential industries that could locate in Kitimat, to follow Asian, not North American customs for non disclosure of information prior to the announcement of any final deal. Members of council were excluded when standard practice meant they should have been in the loop.
Two of the many reasons for are:
One is that Asian companies generally have to disclose less information to the public than North American companies, unless they are publicly listed in the United States and thus subject to Securities and Exchange Commission regulations.
The second is the long time custom of not disclosing a potential deal in case if fails and the parties loose face.
The longer term problem, beyond the personality conflicts on the District of Kitimat Council, which may or may not be solved by the upcoming election, is whose transparency practices Kitimat should follow, North American or East Asian, the seller (Kitimat and its port) or the buyer (China and Japan)?
For legal reasons, it may be that Kitimat will have to follow Canadian transparency rules in future dealings.
At very least, if there is any money left in the consulting budget, the new council should probably hire yet another consultant, one who can advise the members on business practices in China, Japan and the rest of East Asia, a subject they didn't need to know much about a year ago, but is now vital to Kitimat's future.