Enbridge announced Thursday, May 10, 2012, it plans to spend $1.6 billion to upgrade and replace its pipeline through Michigan and Indiana, including the site of the leak in to the Kalamazoo River in July 2010. What Enbridge calls the "6B pipeline" broke open near Marshall, Michigan and spilled more than 840,000 gallons of bitumen sands oil into Talmadge Creek and the Kalamazoo River.
That doesn't mean, however, that the broken and now disused pipeline will be demolished. Enbridge says that pipeline will be "abandoned in place," meaning it will be deactivated, purged of any remaining oil and then filled with an "inert gas," a move that is permitted under United States pipeline safety regulations.
In a fact sheet, Enbridge says it plans to replace approximately 75 miles of its 30-inch diameter "Line 6B pipeline." The 75 miles to be replaced with new pipe consists of about 10 miles in Indiana and 65 in Michigan, with replacement pipe to be either 30 or 36-inch diameter pipe in Indiana and southwestern Michigan and 30-inch pipe in the eastern Michigan segment.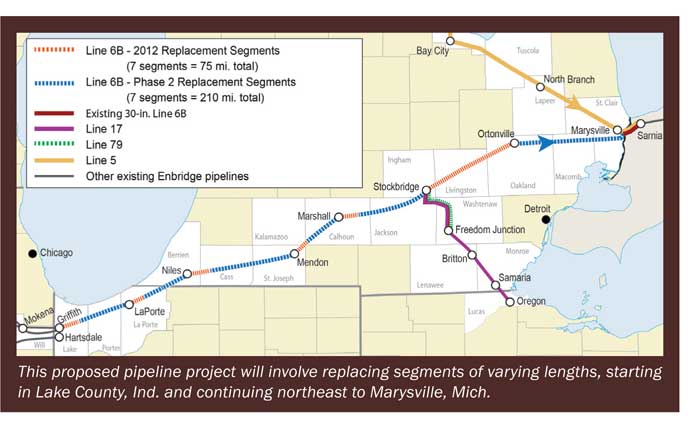 Enbridge says the new pipeline will closely follow the route of the old one.
Completion of this project, scheduled for late 2012, should result in fewer integrity digs and repairs along the replacement segments in the future, resulting in fewer disturbances to landowners and local communities.

For this project, we plan to remove the oil from the pipe segments being replaced and fill them with nitrogen before abandoning in place, as prescribed in regulations. In most cases, the new pipe segments will be installed adjacent to those segments being replaced.
Enbride says the "The Line 6B Maintenance and Rehabilitation Project" is part of the company's "pipeline integrity maintenance program" that includes:
Using high-quality steel and anti-corrosion coatings when constructing our pipelines.
Installing cathodic protection (a low-level electrical charge) to inhibit corrosion of underground pipelines. Pressure testing of new and existing pipelines with
water.
Periodically inspecting the inside of the pipeline with sophisticated tools called "smart pigs" to locate
pipe abnormalities so they can be corrected.
Conducting preventive maintenance programs.
Continually monitoring pipeline operations from Enbridge's control center, which has remote shut-down capabilities and can monitor pressures and conditions when the pipeline is flowing.
Completing regular ground and aerial inspections of the right-of-way.
Providing public awareness safety information to emergency responders, local public officials, excavators and those who live and work along our pipelines.
Enbridge says the aim of the project is to restore the capacity of the pipeline to meet increasing
demand driven by current and planned refinery upgrades and expansions in Michigan, Ohio
and eastern Canada.
Enbridge plans to complete the Indiana segment of the replacement pipeline by 2012. As for the Michigan pipeline, the company says four segments will be completed in 2012 and the last 160 miles will be completed in late 2012 or early 2013.
All of Enbridge's plans are subject to U.S. Federal and state approvals.
As for the spill in the Kalamazoo River, the Kalamazoo Gazette, in covering the Enbridge announcement reported today
Although one section of small section of the Kalamazoo River that had been closed following the Enbridge spill in 2010 reopened last month – just three of the 40 miles affected – environmental officials have said significant amounts of oil still remain submerged in the river bed, although they say it is not dangerous to human health. State and federal agencies are slated to open more parts of the river in coming months pending investigation.
Related Links:
WOOD-TV Enbridge plans new $1.6 bil pipeline Oil pipeline will not be demolished
NPR Michigan Radio Enbridge wants to replace 200 miles of aging pipeline in Michigan
Documents 
Enbridge Handout Line 6B Phase 2  (pdf)
Enbridge Handout Line 6B Replacement Project  (pdf)