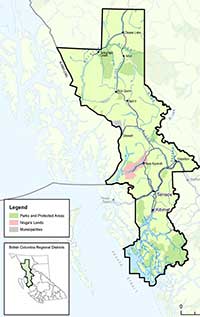 The Regional District of Kitimat-Stikine voted on Sept. 14, 2012, to oppose the Enbridge Northern Gateway pipeline. Eight of the twelve Regional District Directors of Kitimat Stikine voted to both to oppose the Northern Gateway project and to support resolutions of the Union of BC Municipalities (UBCM) on the pipeline.
Telegraph Creek director David Brocklebank, who originally proposed the motion, was supported by Dease Lake alternate director Joey Waite, Terrace municipal directors Dave Pernarowski (mayor) and Bruce Bidgood (councillor), Nass director (and regional district chair) Harry Nyce, Hazelton village mayor Alice Maitland, the Hazeltons and  Kispiox/Kitwanga director Linda Pierre and Diana Penner (who was sitting in for the director Doug McLeod) for the rural area around Terrace and Kitimat.
Brocklebank had proposed the motion at the August meeting. It was tabled to allow for the directors who represent the various regions and municipalities time for consultation.
Voting against were Kitimat municipal director Corinne Scott, New Hazelton mayor Gail Lowry, Thornhill's Ted Ramsey and Stewart municipal director Billie Ann Belcher.
Scott said she was voting against the motion, continuing the Kitimat council's position that it remain neutral until the report of the Northern Gateway Joint Review panel. Ramsey also said Thornhill wanted to also remain neutral.
Other directors pointed to what they called the politicization of the Joint Review and how they believed it had been influenced by Prime Minister Stephen Harper.
While the District of Kitimat remains neutral, the Skeena Queen Charlotte Regional District, Prince Rupert, Terrace and Smithers have all voted to oppose the Northern Gateway.