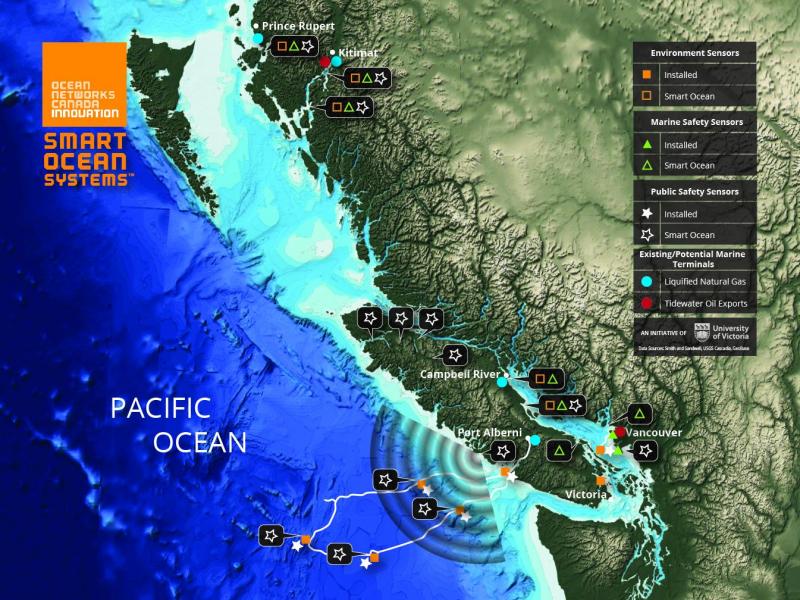 The federal government today announced that it is going to spend $9,127,000 through the Western Diversification Program to support  "the development of Ocean Networks Canada's (ONC) Smart Oceans BC program" to upgrade radar and other navigation aids on the BC coast.
The upgrades include adding the Automatic Identification System (AIS) ship tracking system, which means that those using a web-based ship tracker will be able to monitor major vessel traffic in Douglas Channel.
A news release from Michelle Rempel, Minister of State for Western Economic Diversification said:
The project will add small scale underwater observatories, high frequency coastal radars and an Automatic Identification System to ONC's existing marine observatory footprint including near Port Metro Vancouver, Campbell River, Kitimat, the Douglas Channel waterway, as well as Prince Rupert.
The news release goes on to say an "expanded footprint"  will contribute to what the Conservatives call "responsible resource development"  by helping to prevent accidents, predicting and warning of natural hazards, and "improving overall marine operational situational awareness."
The government says that IBM is developing a system to monitor the data streams from the hundreds of sensors that are being expanded as part of the Smart Oceans BC program. Improved data collection will allow modeling systems to better support disaster planning. In addition, highly qualified personnel will be trained in ocean analytics.
Additionally, SMEs will gain access to technology demonstrations and commercialization assistance, as well as international business development services offered by the ONC Innovation Centre.
The news release places special emphasis on Kitimat saying:
This project will allow for real-time monitoring of vessel traffic, waves, currents and water quality, in areas such as the Douglas Channel, a shipping artery leading to Kitimat.
 The news release quotes David Fissel, Chair and Senior Oceanographer, ASL Environmental Sciences, Inc, as saying: "This substantial investment in Smart Oceans BC will also benefit British Columbia's many ocean science and technology SME's. Access to ONC's observatories and their innovative technology provides a competitive advantage to BC companies seeking to expand their export sales. Our success in global markets also benefits from the support of the ONC Innovation Centre's international business development services."
The Smart Oceans website describes the project this way: "Smart Oceans BC is the next phase in the world-class Ocean Networks Canada system that will position Canada as a global leader in ocean technology that delivers science and information for good ocean management and responsible ocean use."
 It adds:
The Smart Ocean BC footprint will cover areas critical to Canada's economic future including:

Strait of Georgia and Port of Vancouver
Proposed oil and gas export facilities located at the Port of Prince Rupert, Kitimat, Campbell River, Port Alberni, and Douglas Channel waterways
Associated shipping routes to the high seas
The announcement came just two days after the residents of Kitimat voted in a plebiscite against the Northern Gateway project. The ballot count from Saturday's vote was 1,793 opposed versus 1,278 who supported the multi-billion dollar project — a margin of 58.4 per cent to 41.6 per cent.