Energy LNG Link
Alberta Oil is reporting that Shell's plans for a liquified natural gas export facility somewhere on the northern British Columbia coast will likely be a giant floating platform, similar to the platform planned for the coast of Western Australia.
Shell Canada sizes up LNG options offshore B.C.
Although costs, production volumes and timelines haven't been worked out, industry observers like FirstEnergy Capital are speculating that Shell and its partners are considering building a floating LNG structure off B.C.'s coast. The Anglo-Dutch super-major knows a thing or two about floating LNG projects. In May, Shell received approval from the Australian government for its Prelude floating LNG project. Scheduled to start production in 2016, the Prelude structure will be located in the Browse basin off the coast of Western Australia
The length of the floating prelude platform, at 488 metres according to a diagram released by Shell and reprinted by Alberta Oil, would be longer than the height of the 446.5 metre Skypod/ Space Deck on the CN Tower and longer than the hieght of Kuala Lumpur's Petronas Tower at 452 metres. (The proportions in the Shell diagram of the CN Tower are not entirely accurate when compared to the information in the Wikipedia entry on the CN Tower)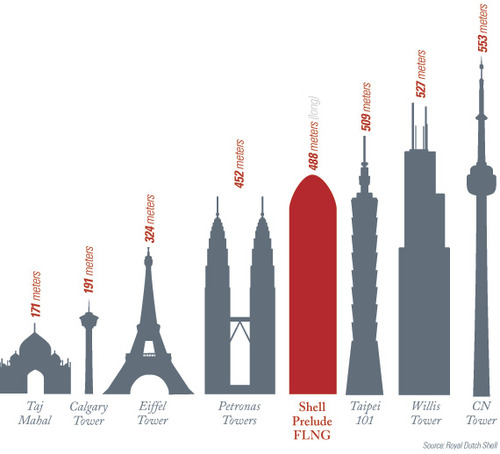 As reported in April by Alberta Oil Kitimat LNG faces Australian rivals the Western Australian development could rival Kitimat, a point that took up a lot of testimony at the June National Energy Board hearings into KM LNG's application for an export licence.