Energy Environment Shipping
As one ship is grounded off New Zealand, causing an environmental "catastrophe" and a second is grounded off Nova Scotia, a shipping company in New Orleans has announced that it will commission two vessels powered by a duel fuel system that includes liquified natural gas.
Harvey Gulf International Marine of New Orleans, Louisiana and Trinity Offshore of Gulfport, Mississippi said Friday it will build two offshore 92 metre (302 foot) supply vessels, with a price tag of $55 million each with an option for a third. These vessels will service the oil and gas rigs in the Gulf of Mexico.
New Orleans City Business report
The vessels will also have environmental features to meet US ENVIRO+ Green Passport Certification by the American Bureau of Shipping.
The ship's propulsion system will be built by a Finnish company called Wärtsilä, which specializes in natural gas power plants on land and integrated marine engine systems, as well as designing ships, including large ferries.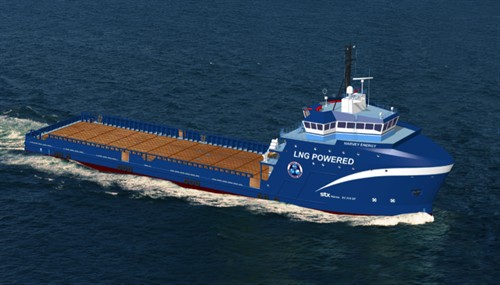 Wärtsilä
In a news release, John Hatley, a vice president of Wärtsilä North America remarked that "We are witnessing a transformation of the marine industry as it charts a course towards a new era for natural gas. It's exciting for Wärtsilä to be a trusted partner in this launch with industry leader Harvey Gulf, whose natural gas supply vessel investment actions of today signal a coming paradigm shift. This is aimed at capturing operational savings while simultaneously reducing emissions."
The company website says it supplies power systems for LNG carriers as well as container vessels, bulk carriers, drilling rigs and ships, offshore research vessels, floating production units, cruise ships and yachts.
The duel fuel system combines conventional marine fuel systems, gasoline, light fuel, heavy fuel or biofuel with liguified natural gas.
European shipping companies are adopting the duel fuel technology to meet emission standards that come into effect 2013.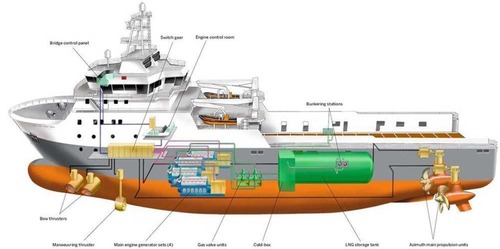 Wärtsilä
The website says
This dual-fuel capability means that when running in gas mode, the environmental impact is minimized since nitrogen oxides (NOx) are reduced by some 85 per cent compared to diesel operation, sulphur oxide (SOx) emissions are completely eliminated as gas contains no sulphur, and emissions of CO2 are also lowered. Natural gas has no residuals, and thus the production of particulates is practically non-existent.

The shipping industry finds the operational savings that gas offers to be very compelling. Similarly, the significant environmental benefits that LNG fuel provides are of increasing importance. With fossil fuel prices, and especially the cost of low sulphur marine fuel, likely to continue to escalate, gas is an obvious economic alternative.
Two-stroke engine
On September 23, Wärtsilä, announced that it is now working on a two-stroke liquified natural gas engine. The website says:
Wärtsilä… has successfully tested its new low-speed gas engine technology in trials conducted at the company's facilities in Trieste, Italy….
Wärtsilä successfully demonstrated that the engine performance fully complies with the upcoming IMO Tier III nitrogen oxide (NOx) limits, thereby setting a new benchmark for low-speed engines running on gas.

The new RTX5 2-stroke test engine is part of Wärtsilä's 2-stroke dual-fuel gas engine technology development programme. This is an important part of the company's strategy to lower emissions, increase efficiency and to develop its low-speed engine portfolio to include dual-fuel gas engines alongside its medium-speed dual-fuel engines.
"The decision to initiate this project was announced in February 2011, just seven months ago. The fact that we have already conducted a successful test shows that our gas engine technology is at the forefront of meeting the future needs of shipping, a future that stipulates more stringent environmental regulation….

The tests with the RTX5 engine will continue during the autumn and winter of this year, and into 2012. More details about the engine technology and its performance will be announced upon completion of the programme.