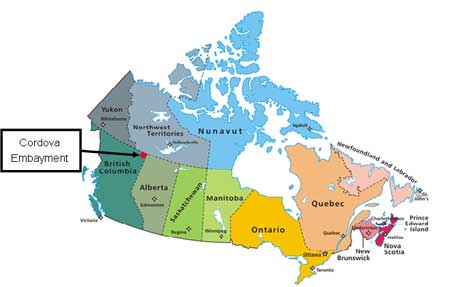 (Map by Mitsubishi)
LNG Unlimited
LNG exports on the cards from Canadian shale gas
A consortium of five Japanese energy outfits are set to consider LNG exports from a planned shale gas project in northeastern British Columbia, Canada.

Japan Oil, Gas and Metals National Corporation, Chubu Electric Power, Tokyo Gas and Osaka Gas will collaborate with Mitsubishi on the Cordova Embayment Project, which will mark the first shale gas project executed by Japanese utilities and gas companies…

Half of the production will be for the Canadian market.
Natural Gas for America
Japanese Utilities Joins Cordova Shale Project
A group of Japanese utilities will join Mitsubishi Corp. in a shale gas project led by Penn West Exploration.

Tokyo Gas Co., Osaka Gas Co., Chubu Electric Power Co. and Japan Oil, Gas and Metals National Corp. have each agreed to take a 7.5% stake in Cordoba Gas Resources, a subsidiary of Mitsubishi.

Through the formation of the consortium, all the companies expect to obtain beneficial knowledge about shale gas developments. The consortium plans to discuss studying the possibility of exporting the shale gas to Japan as LNG which will contribute to diversify energy import and to secure stable energy supply to Japan, Mitsubishi Corp. said in a statement.
Editor's note:
Mitsubishi's interest in the Cordova project was under negotiation last year, long before the earthquake which knocked out much of Japan's energy generating capacity, especially the hard hit Fukishima nuclear reactor complex. Now, with Japanese companies and the government looking to replace nuclear with natural gas, this is likely the first of a number of deals that will be announced in the coming months. That natural gas has to get to Japan somehow, and that likely means more announcements regarding the port of Kitimat.