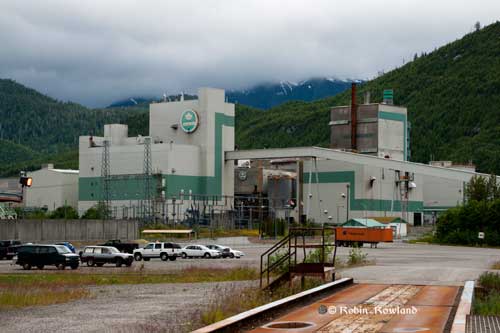 The closed Eurocan plant in Kitimat, the day it was sold, July 14, 2011. (Robin Rowland/Northwest Coast Energy News)
KM LNG Operating General Partnership
(Kitimat LNG) has announced that it has entered into an agreement to
purchase the former Eurocan linerboard mill site in Kitimat from West
Fraser Timber Co Ltd.
KM LNG said in a news release that the sale is subject to obtaining government approvals for the
transfer of related permits and licenses. Financial details of the
transaction have not been disclosed:
"The Kitimat LNG partners are very pleased we have reached this
agreement with West Fraser," said KM LNG President Janine McArdle. "The
purchase of the site marks another significant local investment in
Kitimat and is a great step forward for the Kitimat LNG project."

The site provides the Kitimat LNG project with a suitable area for a
work camp, lay-down and storage area as the project continues to move
forward with clearing and grading at the LNG export facility site.

The Kitimat LNG export facility is planned to be built on First Nations
land under a unique partnership with the Haisla First Nation.

Kitimat LNG partners Apache Canada Ltd., EOG Resources Canada Inc. and
Encana Corporation are currently in marketing discussions with
potential Asia-Pacific LNG customers.

The partners expect to have firm sales commitments in place by the time
a final investment decision is made. Initial shipments of LNG are
expected to begin by the end of 2015.
West Fraser closed the Eurocan mill at the end of January 2010, throwing about 500 people in Kitimat out of work. Most of the machinery in the plant has been sold and dismantling of equipment and demolition of some parts of the mill are wrapping up.
KM LNG plans to use the site as a work camp and storage area for the construction of the LNG terminal at Bish Cove on Douglas Channel south of the shuttered mill.