Energy Environment Politics
An alliance of up to 130 First Nations from across North America say they will oppose any efforts to construct the Northern Gateway pipeline from the Alberta bitumen sands to the port of Kitimat.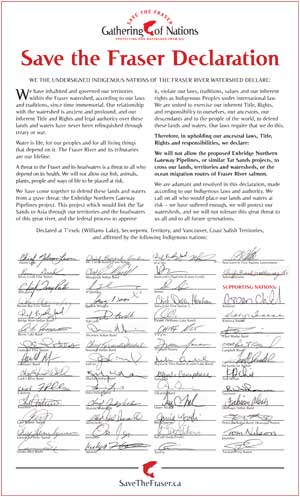 Vancouver Sun: First nations claim alliance is barrier that pipelines won't break

On Thursday, signatories to the initiative called the Save the Fraser Gathering of Nations, said they had increased their roster to 130 from 61 western Canadian first nations that oppose not just construction of Enbridge Inc.'s Northern Gateway project, but any project to increase Canada's exports of oilsands crude, on the grounds that they infringe on aboriginal title.

"I have news for you [Prime Minister Stephen Harper], you're never going to achieve your dream of pushing pipelines through our rivers and lands," said Chief Jackie Thomas, of the Saik'uz First Nation, and head of the Yinka Dene Alliance, a key spokeswoman for the group in B.C.'s interior.

"It doesn't matter what route you take, you can't get a pipeline around opposed first nations. The path is blocked, and it's going to stay blocked," Thomas said.
Globe and Mail: B.C. natives form front to fight oil pipelines
First Nations say they fear the consequences of a spill from the pipeline, which would pass through some of Canada's most spectacular mountain landscape. They also oppose the idea of shipping oil from British Columbia ports.

"First Nations, whose unceded territory encompasses the entire coastline of British Columbia, have formed a united front, banning all exports of tar sands crude oil through their territories," more than 60 aboriginal groups said in a statement.

Thursday's declaration could also affect a planned expansion of Kinder Morgan Energy Partners' Trans Mountain oil pipeline, which runs from Alberta to Vancouver. The company is seeking commitments from potential shippers for the project.
Canadian Press First Nation leaders say they are closing B.C. borders to Gateway pipeline

Chief Art Adolph, of the St'at'imc Nation, said he's opposed to any plans by the federal Conservative government to push the pipeline through.

"If they are serious about respecting our rights, the government of Canada must stop pushing the oil companies' line that this is in the public interest, and the government of B.C. should step up to the plate too and begin protecting our rivers and coastlines from further environmental damages that violate our basic human rights," he said.
Related: Save the Fraser website