The September issue of National Geographic includes a large map of British Columbia it calls "Claiming British Columbia."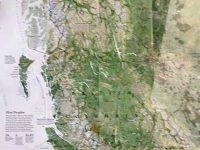 The map has three themes: First Nations' traditional territory, the routes of proposed pipeline projects, both LNG and diluted bitumen, and it features a sub map that looks at what the map calls the "Troubled Salmon" fishery.
The cartographers at National Geographic are being very careful, avoiding such troubling issues as competing land claims among First Nations, unresolved land claims with the federal and provincial governments and treaty status.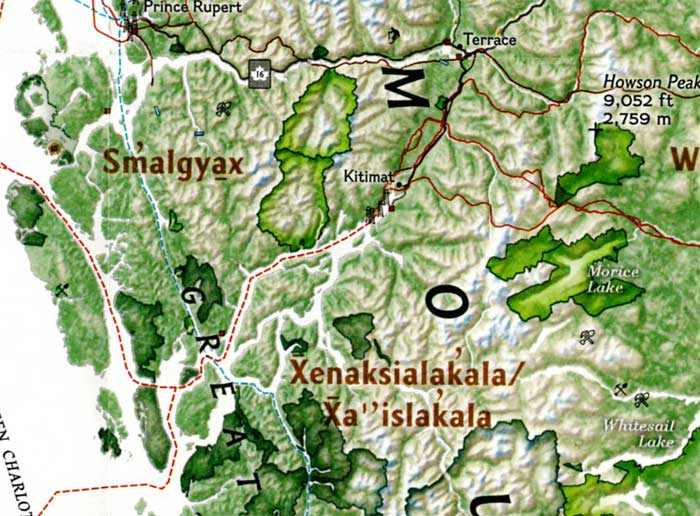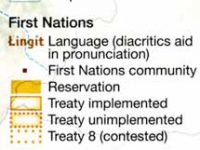 So by and large the map groups First Nations by language group unless there are definite treaty or reserve boundaries. Large reserves under the Indian Act are on the map, but given the post stamp size of many reserves in British Columbia, those reserves are too small to be seen on the map. Towns and cities are identified as "First Nations" communities which often overlap with settler communities. Again the map misses many smaller communities, so Kitimat is on the map, while Kitamaat Village is not.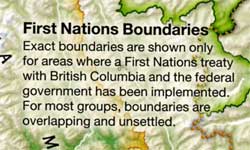 The map identifies Haisla traditional territory as "Xenaksilakala/Xa"islakala" and also includes the Kitlope Heritage Conservancy Protected area.
The article in the September issue is called The Pacific Coast, but unfortunately there is not much of a tie-in with the map, since it concentrates on California and Alaska with only a passing mention of British Columbia.
On the obverse side of the map is the poster that is promoted on the magazine cover, a beautiful painting of "The Changing Pacific Coast" which covers kelp and every creature from phytoplankton and zooplankton all the way to humpback whales and sea gulls (but for some reason no bald eagles). It is likely that poster will be on display in classrooms up and down the coast before school opens next week.