Joint Review Panel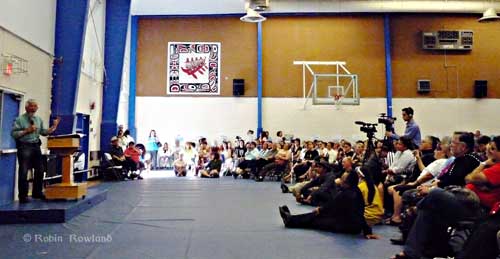 David Suzuki speaks at the Solidarity Gathering of Nations at the Haisla Recreation Centre, Kitamaat Village, May 29, 2010. The gathering was called to protest against the Enbridge Northern Gateway Pipeline.  The Joint Review Panel announced Dec. 22 that the Kitimat hearings have been moved from the Riverlodge Recreation Centre to the Haisla Rec centre. (Robin Rowland/Northwest Coast Energy News)
The Joint Review Panel has moved the first two days of hearings on the Northern Gateway Pipeline from the Kitimat Riverlodge Recreation Centre on Jan. 10 and 11 to the Haisla Receration Centre in Kitamaat Village.

In a news release issued late Thursday afternoon, the JRP said:
CALGARY, Dec. 22, 2011 /CNW/ – The Joint Review Panel (the Panel) conducting the review of the proposed Enbridge Northern Gateway Project has changed the venue for the following community hearings. The community hearings will start on January 10, 2012, in Kitamaat Village instead of Kitimat.

Location Venue Date and Start Time
Kitamaat Village, BC Haisla Recreation Center
1538 Jassee 10 and 11 January 2012
Starting at 9:00 a.m.

For more information on the joint review process and the detailed schedule for the first portion of the community hearings, please visit the Panel's website at www.gatewaypanel.review.gc.ca. The Panel will continue to share details about the community hearings as they become available.

Media Procedure for the Hearings

Members of the media are welcome to attend the community hearings. Filming, recording and photographing will be allowed within pre-established fixed locations in the hearing room while the hearings are underway. Media reporting or interviews will not be allowed in the hearing room.

The Panel reserves the right to modify the media procedure for the hearings at any time.

About the Joint Review Panel
The Joint Review Panel for the Enbridge Northern Gateway Project is an independent body, mandated by the Minister of the Environment and the National Energy Board. The Panel will assess the environmental effects of the proposed project and review the application under both the Canadian Environmental Assessment Act and the National Energy Board Act.

The proposed Enbridge Northern Gateway Project involves the construction of two 1 170-kilometre pipelines running from Bruderheim, Alberta to Kitimat, British Columbia and the construction and operation of the Kitimat Marine Terminal.