The Alberta-based "Ethical Oil" group is launching a series of American-style attack ads that will appear on British Columbia radio stations and in BC newspapers in coming days warning the province against what they call "foreign influence" opposing the Enbridge Northern Gateway pipeline.
The Joint Review hearings on the controversial pipelines project begins next Tuesday, January 10, at Kitamaat Village.
The main message of the attack ads goes like this: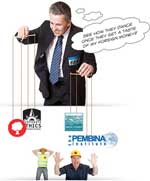 Foreign billionaires are hiring front groups to swamp the hearings to block the Northern Gateway pipeline project. Anti-oil sands groups claiming to speak for Canadians are actually backed by millions of dollars from foreign interests.
A news release from the right wing group quotes Kathryn Marshall, spokesman as saying "Canadians will be shocked to learn that anti-oilsands lobby groups opposing the project have taken millions of dollars from foreign special interests."
The release says that each ad in the series highlights a different Canadian front group being paid by a foreign special interest.
In an interview with Sun Media' s QMI agency Marshall said "Canadian environmental non-governmental organizations "are becoming nothing more than puppets for their foreign paymasters."
What Ethical Oil calls factual documentation for the ads, as well as an audio clip of the first of five radio ads, can be heard at the website www.OurDecision.ca.
Targets of the attack ad campaign include
The West Coast Environmental Law Foundation
Corporate Ethics International
Pembina Environmental Foundation
Environmental Defence Canada
Ecojustice Canada Society
The West Coast Environmental Law Foundation is the first target of the campaign. Ethicaloil.org claims the Canadian company has received $195,000 in foreign money to "fight against B.C."
Marshall says, "This ad campaign is 100% Canadian, paid for through grassroots donations by Canadians only. We'll never take foreign money to undermine our country's national interests."
There are prominent ads on both the Ethical Oil site and Our Decision asking supporters for donations.
The attacks are based on work by Vivian Krause, the Vancouver based researcher who has looked for Canadian connections in the tax returns of American environmental foundations.
Ethical Oil makes no mention of the massive foreign investment in the Canadian energy industry, including no mention of Chinese and American investment in the bitumen sands. It also fails to mention that there is major foreign investment in the Northern Gateway Pipeline. Enbridge is keeping the names of their investors confidential, with the exception of the Chinese state oil company Sinopec.