Energy Environment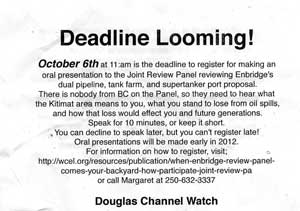 Environmental groups are saying that the Northern Gateway Joint Review Panel and Enbridge haven't given the public enough notice that the Thursday is the deadline for registration to participate in the hearings, which begin in January.
In Smithers, Pat Moss, with the Friends of the Wild Salmon says neither the
National Energy Board, or Enbridge had done much to let people know they
need to register this far in advance.
In Kitimat, Douglas Channel Watch distributed a leaflet door to door warning about the pending deadline.
Those who wish to make oral statements have until October 6 to apply to make an oral presentation to the Joint Review Panel. Applications can be made on the JRP website:
While the hearings are scheduled to begin on January 10, 2012, locations are still uncertain. The JRP website says
Have you made a decision on specific hearing locations?
No. Based on the comments received, the Panel intends to conduct oral hearings in locations close to the pipeline and marine components of the project. The list of oral hearing locations will be announced at a later date.
Moss says this lack of firm dates and locations for those hearings is likely a hindrance to some people who wish to participate, since they cannot know this far in advance where they will be when the hearings come to their area, "We're very concerned that there
will be a lot of people who will only realize that the hearings are
being held much later, after the National Energy Board announces the
locations and dates for the hearings, and by then it's long after the
deadline," Moss says.
The environmental groups say the Joint Review Panel should have had a more aggressive campaign in newspapers, online and in the broadcast media to make people in northern BC aware of the looming deadline.