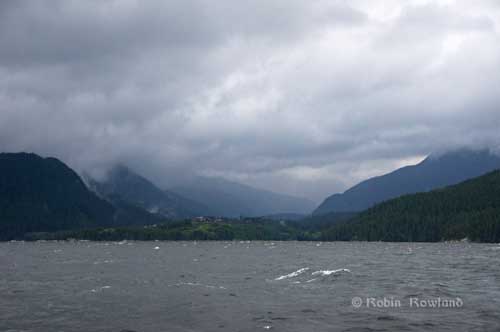 Bish Cove, site of the KM LNG (Kitimat LNG) natural gas terminal, photographed on a stormy Sunday, Sept. 18, 2011. (Robin Rowland/Northwest Coast Energy News)
KM LNG (also known as Kitimat LNG) will consult with the Kitimat Rod and Gun club about creating a "legacy" fish and wildlife program at Bish Cove, according to the National Energy Board decision that granted an export licence for liquified natural gas to the partnership.
As part of its consideration of the social, economic and environmental aspects of the project, the NEB noted:
The Kitimat Rod and Gun Association requested that KM LNG and its partners establish a fish and wildlife "legacy" program for the area. In response, KM LNG committed to working with the Kitimat Rod and Gun Association to explore a partnership and stated it and its partners are committed to investing in the communities where KM LNG operates. KM LNG noted it already supported some community initiatives and would set aside funds to support others, after a positive investment decision.
KM LNG has hired the energy services company KBR to do a front end engineering and evaluation study of the project which is expected to be completed in December. The partners will then make the decision whether or not to go ahead with the project.
Mike Langegger of the Kitimat Rod and Gun, who made the presentation to the hearings in June, says the club has had some preliminary talks with the KM LNG public relations staff but so far there have been no formal talks about the legacy program.
In its presentation to the NEB, Kitimat Rod and Gun said it would ask KM LNG for a legacy fund that would be $7.25 million over the twenty-year period of the export licence. The money would be used to preserving fish, wildlife and habitat in the area around the natural gas terminal
Langegger says while it is uncertain if KM LNG will agree to the complete proposal, no matter what the outcome he wants all stake holders to be involved, with they are "consumers" (hunters and anglers) or "non-consumers" (naturalists) so that the habitat is maintained.
.
NEB decision on KM LNG application(PDF)