Energy Environment First Nations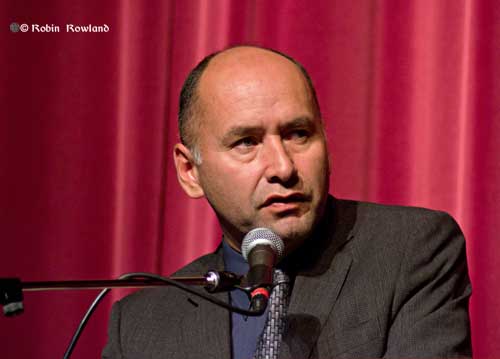 Haisla Nation Chief Councillor Ellis Ross speaking at the September 2011 District of Kitimat public forum on the Northern Gateway Pipeline. (Robin Rowland/Northwest Coast Energy News)
Haisla Nation Chief Councillor Ellis Ross said Friday that Haisla will not "negotiate" with Enbridge over its planned Northern Gateway Pipeline until after there has been a decision from the Joint Review Panel on whether or not the pipeline is in the public interest.
Ross said the Haisla had recently written to Minister of the Environment Peter Kent, asking if the Crown was prepared to enter the constitutionally mandated consultations with First Nations over the pipeline. Ross says Kent's reply indicated that there would be no Crown consultations until after the conclusion of the Joint Review Process.
The Joint Review Panel hearings begin in Kitimat on January 10, 2012. The hearings will proceed in two stages, first hearing presentations from registered intervenors, with the second phase hearing from members of the public who wish to give 10 minute comments on the pipeline project. That stage of the process could take up to three months before the panel can even begin to consider a decision.
Reacting to today's decision by Gitxsan hereditary chiefs to sign an agreement with Enbridge to take a $7 million partnership stake in the pipeline, Ross said he was surprised by the move, "given the opposition from the public so far, and we've be told that in terms of consultation and accommodation [with First Nations]."
Earlier today, in the news conference with Gitxsan heriditary chief Elmer Derrick, Enbridge executive vice president of Western Access Janet Holder told reporters that the company was negotiating with all 50 First Nations along the pipeline route.
Ross disagreed with that term. He said, "The Haisla are not negotiating with Enbridge. You can't confuse negotiation and talking." He said without the participation of the Crown there is no real process for negotiations and accommodation with First Nations over the pipeline.
Ross said any talks with Enbridge by First Nations shouldn't be considered negotiations unless there is some type of formal agreement saying "we are in negotiations."
Ross also said in terms of possible agreements with Enbridge "it is pretty easy to negotiate in an area where there will be very little impact."
The Haisla, he said, have all three major impacts from the Northern Gateway project, "the pipeline, the terminal and the tankers. It`s pretty easy to negotiate if you`re not paying the full price. The Haisla will pay in full if the project goes ahead."
The Haisla have always been wary of the Enbridge project but have also been careful in stating their opposition to the pipeline. At public meeting in Kitimat in September, Ross said, in part.
As far as we can tell, based on oil company's track records, there will be a spill whether it is pipeline, terminal or tanker.

The only questions are how much oil will be spilled, who will clean it up and who will pay for the cleanup. We've been accused of NIMBY but in terms of our concerns, when it comes to a spill, we predict a POTB (Passing of the Buck) will occur…

And ultimately, apart from the acceptable risks that Haisla have already taken on against our will as well as current risks that we are a part of mitigating, why do we want to consider a project that has the potential to destroy the beauty of our resources that are still left?

We are not opposed to development, but in the case of oil export or oil by products import/export, the Precautionary Principle still makes the most sense

Other First Nations also reacted strongly to the Gitxsan chiefs' decision.
In a news release Chief Na'Moks (John Ridsdale) representing the Wet'suwet'en Hereditary Chiefs said:
Enbridge is just not going to happen. We have said no and banned this pipeline from going through our territories – not only to protect ourselves and our lands, but also all the communities downriver from our lands. We have reviewed the project, and we have made a decision based in our traditional laws that we will not allow the devastation of an Enbridge oil spill in our lands to affect us and other communities further away who are all connected to us through the water.
Chief Jackie Thomas of Saik'uz First Nation, speaking for the Yinka Dene Alliance, stated:
Enbridge has always had a strategy of offering money to lots of First Nations. Lots of First Nations have refused this money. This is just the same old divide and conquer tactic we've known for centuries. It doesn't matter who they get a deal with. The wall of First Nations saying no is unbroken. They plan to come through our territories and we've already said no, and we'll use every legal means we have to stop them.

Their proposed pipeline is against our laws because we refuse to put our communities at the risk of oil spills. Water means more to us than money. We know we have overwhelming support from a large majority of British Columbians for stopping this dangerous Enbridge pipeline.