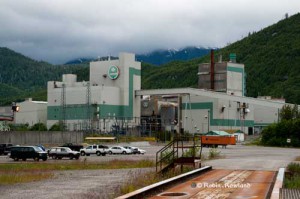 As the financial and energy markets speculated Monday, Feb. 6, 2012 that Apache Corporation would make an official announcement during its quarterly webcast next week that the Kitimat LNG project will go ahead, a company report to the District of Kitimat Council, released this evening, is a strong indication that the project is a go.
Mayor Joanne Monaghan told the council that Apache has reported to the district that work at the site for the LNG terminal at Bish Cove has been "progressing well" through the winter and was now "progressing toward the construction phase." Work so far at Bish Cove includes site preparation, building an access road and a temporary dock for the crew boat.
Monaghan said that Apache will begin work on a work camp for the Kitimat LNG project at the old Eurocan site "shortly."
Monaghan also that the province of British Columbia told her that it estimates that there will be 800 permanent,  long term jobs in British Columbia over the life of the projects  9,000 construction jobs over the 10 to 15 year multi-train (phase) plans from the KM LNG, BC LNG and Shell projects.  Premier Christy Clark estimated that LNG projects will bring the province $1 billion in revenue. (For Premier Christy Clark's statement see Vancouver Province Liberals shift strategy to LNG)
The mayor said that Apache plans to work closely with local contractors in general contracting, supplies, concrete supply, logging and land clearing and other supporting jobs.
Apache will be in competition with Rio Tinto Alcan for the local workforce and contractors. Last Thursday, RTA, which is working on a $3 billion modernization project at the Kitimat aluminum smelter, stole a march on Apache, by holding a day long conference for contractors and suppliers across British Columbia, including a tour of the plant, so they could bid on work during that project.
At the same meeting, district council was told that Shell has begun the official transition in its takeover the old Methanex site, which it recently purchased from Cenovus by applying for a licence of occupation at the site, which included asking for permission under district of bylaws to put a  Shell Canada sign at the entrance to the site, replacing the current Methanex sign.  The old Methanex site will be the base for Shell's plans for its LNG project.
 (This story has been updated and corrected after checking Christy Clark's statement on LNG which at the council meeting was attributed, in part, to Apache)