In an example of how nasty American politics is infecting the Alberta provincial election, an anonymous Twitter account that apparently promotes the Wildrose party has brought the American "birther" argument into the campaign.
The badly written, poorly spelled,Tweet showed up on this morning's Kitimat Twitter search feed. It implies that Alison Redford will not be a good premier for the province because she was born in Kitimat.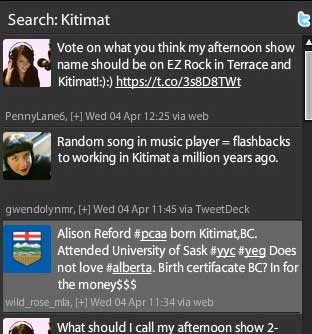 While the @wild_rose_MLA account, at this point, has only 20 followers and 20 following, it seems to be adopting the right-wing argument from the United States that President Barack Obama is not eligible to president because, despite conclusive proof that he was born in Hawaii, Obama the "birthers" believe he wasn't born in the US.
Earlier there was a nasty incident in the election campaign. The controversy began when Amanda Wilkie, an assistant to the executive-director of Premier Redford's Calgary office, Tweeted about Wildrose leader Danielle Smith:
"If @ElectDanielle likes young and growing families so much, why doesn't she have children of her own?"

The following day, Smith issued a statement. "In the last day the question has been raised about why I don't have children," and then told how Danielle Smithand her husband David had wanted children, had tried fertility treatments, but were unsuccessful. Wilkie later resigned from Smith's office.
The irony, of course,is that in her role as premier of Alberta and as a prime promoter of the bitumen sands and the Northern Gateway and other pipelines, Redford has shown no indication that a Kitimat point of view actually has any influence on her policies and platform. Her family left Kitimat when she was a toddler.
This Twitter account is likely the efforts one highly-partisan individual who favours Wildrose, or, because it is so strident, perhaps even a disinformation campaign by an opponent. One reader has suggested it is a parody account.
On a wider picture, however, this tweet is typical of the thousands of tweets seen over the past couple of years that shows a general ignorance about Kitimat, if not outright contempt, that seems to prevalent in Alberta political circles.  For those Albertans, Kitimat is simply the predestined outlet for the bitumen sands and nothing more.