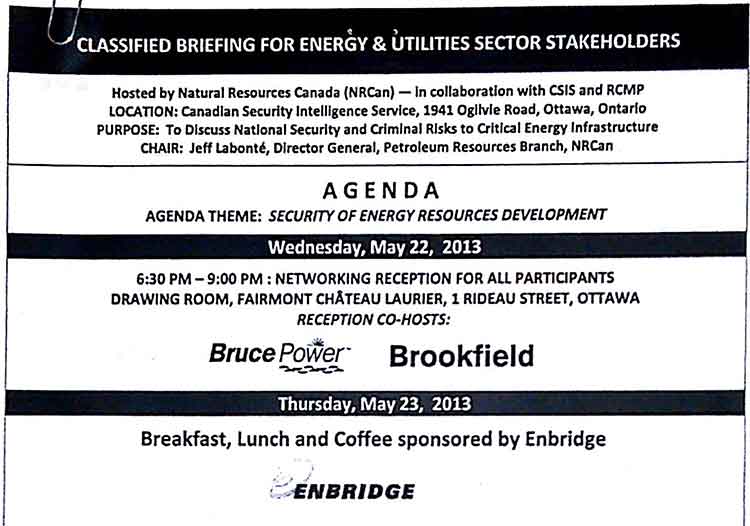 Updated with Guardian report and link
Documents obtained by The Guardian and by CBC News under the Access to Information Act show that Canada's security agencies, the RCMP and the Canadian Security Intelligence Service, together with other departments including Natural Resources Canada and the National Energy Board met with Canada's big energy companies, including Enbridge, to discuss threats to the country's energy infrastructure.
As the agenda obtained by CBC shows, Enbridge supplied the breakfast, lunch and coffee for those attending the security conference.
The agenda for the conference show there were panels on "BC Resource Development," and "Aboriginal Protests and Occupations."
The Guardian reports:
the meetings – conducted twice a year since 2005 – involved federal ministries, spy and police agencies, and representatives from scores of companies who obtained high-level security clearance.

Meetings were officially billed to discuss "threats" to energy infrastructure but also covered "challenges to energy projects from environmental groups", "cyber security initiatives" and "economic and corporate espionage".
The Guardian: Canadian spies met with energy firms, documents reveal
CBC story:  Why would Canada spy on Brazil mining and energy officials?  (includes links to documents)