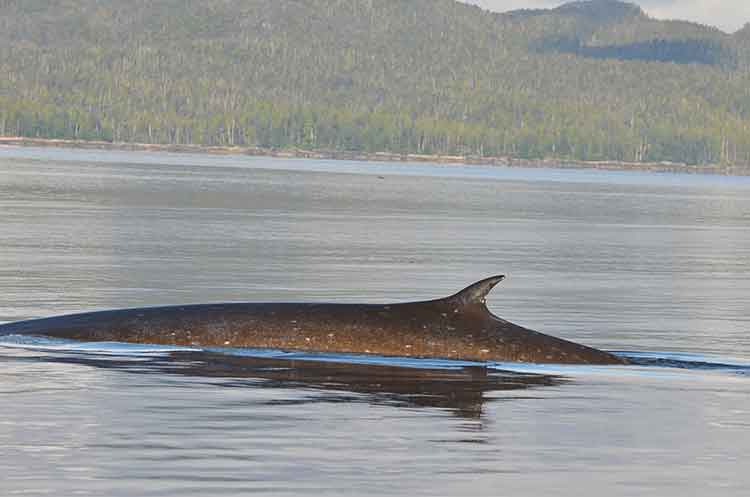 Whales are coming back to Douglas Channel.
In 2013, many Kitimat residents with long experience on the water have reported and are still reporting more sightings of both orcas and humpback whales.
Add to this a recently published scientific study that shows the number of humpbacks at the mouth of the channel near Gil Island has doubled in the past decade, with the study saying there were 137 identifiable whales in 2011.
So why are the whales returning? Chris Picard, Science Director for the Gitga'at First Nation and one of the co-authors of the study believes that answer is simple. There are, so far, three species of whales seen in the area, humpbacks, orcas and fin whales. It is only now, Picard believes, that the humpback and fin whale populations are recovering from a century of whaling.
The study estimates there were once about 15,000 humpback whales in the North Pacific when whalers began hunting the animals. That number was down to 1,400 when whale hunting was stopped in Canada in 1966.
As whale numbers increase, they are searching for the rich food sources found in the Channel, both at the mouth around near Gil Island where the study took place and as far north as the Kildala Arm and Clio Bay.
"One of the things the humpbacks like to do when they are on our coast or the Alaskan coast and that is they feed," Picard said, "So they are really targeting areas that there is a high density of their preferred prey, krill or herring or other schooling fish, sardines in some years."
So far the study has concentrated in Gitga'at traditional territory around the mouth of Douglas Channel near Gil Island. Picard says increasing the study area to include more of Douglas Channel is a good idea, but would require more resources than are currently available. "We'd like to continue with the study consistent with the work that we have been doing. Considering what we're seeing in the local Douglas Channel area, Wright Sound, Gil Island, it can be very worthwhile.
"We are going to continue with our current study which involve getting to know how many humpbacks are using the area and continue with the study that we just published to see if numbers continue to increase or to see whether or if they do start to stabilize at some number," Picard said. "With more and more proposals for increased shipping, we get to see any changes with humpback numbers that may be linked to increased shipping. We'll continue to monitor the humpback population; not just their numbers but also their distribution in the area. We'll continue to monitor that, again in relation to the various shipping proposals and activities that are proposed."
It was during that study on humpbacks that the researchers from the Gitga'at Nation and the Cetacean Lab noticed the appearance of fin whales, another species that had been hit hard by whaling. ("We've worked very closely with the Cetacean Lab group and frankly without their help we would never have published any of this work because their data certainly was instrumental in getting the overall data set that made possible a publishable study," Picard said.)
"We have observed is that fin whales have increased in their abundance in the area quite a bit, " Picard said. "I can remember when we first started doing surveys, there were not too many. We've gone from seeing a couple over the course of an entire year. Now when we do our marine mammal surveys in the area the fin whales you pretty much see in every survey and in more and more numbers. So it's quite encouraging to see that fin whales are becoming more abundent in the area. They were also hunted, so if you factor in the days of commercial whaling operations, that of course has stopped, so its encouraging to see that their numbers are coming back too.
The fin whales tend to be found in many of the same areas at the humpack whales are using, Caamaño Sound, Campania Sound and areas south of Gil Island. "we've also seen them more in the interior waters like Squally Channel, Wright Sound, Whale Channel, similar to the areas where we see the humpbacks.
"We haven't done the same level of detailed analysis on the fin whale distribution as we have with the humpback, so it's just my overall impression that they're using similar habitats.
"It's unique for fin whales to be using these more confined waters. It is my understanding that they are more of an open water species. I think that makes the area fairly unique," he said.
Picard added it would be interesting to do a historic study to see how many fin whales were taken by whalers in the previous decades, especially in Caamaño Sound, Squally Channel and Wright Sound.
"The fact that we saw so many humpbacks relative to the size of the area, which is pretty small relative to the whole coast, so there must be a high abundance of food in the area," Picard said.
"I'd like to get a better understanding of what is really driving the food abundance in the area. What is the oceanography in the area, what are the currents, what is driving that high area of biological activity that the whales seeming to be homing in on."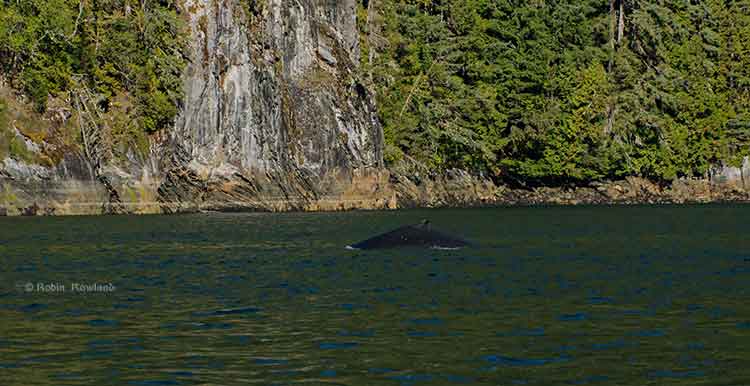 That means, Picard believes, that there could be krill and juvenile herring schooling in the upper Douglas Channel and that is what is attracting the whales.
One of the next steps, Picard said, is to study social interaction among whales. "We do take identification photographs, so we get a sense of who's hanging out with who; who is bringing their calves into the area to introduce them into what seems to be very good whale habitat," Picard.
So one aim of a future study would be to se what role social interactions play in the increased whale sightings in the Douglas Channel. He also wants to know what role are the potential negative impacts on that whale social interaction comes noise impacts, or being struck by ships, and the potential environmental affects of oil spills. "So do these social interactions decrease as the impacts increase, does that mean there are going to be fewer whales that come into this area? Those are some of the questions we want to address."