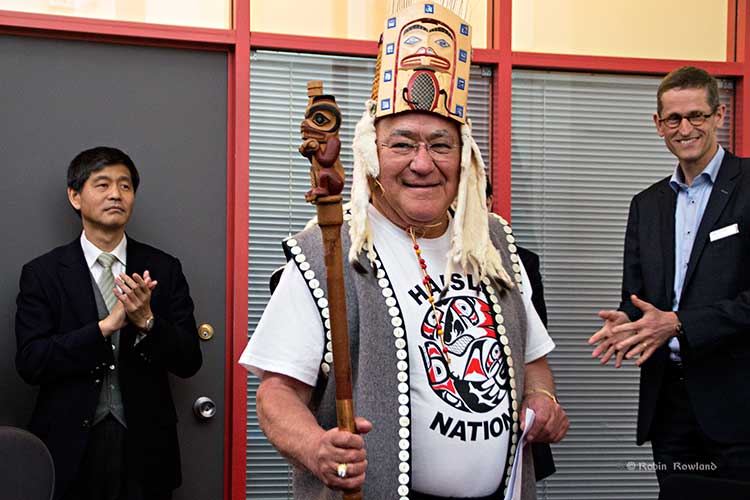 LNG Canada has chosen CFSW LNG Constructors, a consortium of four engineering companies Constructors as its main contractor for Front End Engineering and Design (FEED) as well as project execution services for the proposed liquified natural gas export facility.
The contractors will begin FEED activities for the LNG Canada project on June 1, 2014.
Final go ahead is still subject to a Final Investment Decision which will come, yay or nay, sometime in the next couple of years.
One of the partners in CFSW familiar to Kitimat residents is WorleyParsons.(company website) Others are Chiyoda, a Japanese company specializing largely in LNG construction (Chiyoda website  in Japanese), Foster Wheeler, an international company with expertise in LNG, off shore oil and similar projects and SAIPEM an Italian based engineering company again with energy industry expertise.
WorleyParsons is also a contractor with the Apache/Chevron Kitimat LNG project.
The announcement was made at the LNG Canada facility at the old Methanex office building in Kitimat. Company representatives, members of council and representatives of the Haisla Nation, including Chief Sammy Robinson were at the ceremony.
LNG Canada's Susannah Pierce said, subject to the final investment decision, Shell and its partners "We want to make this the first LNG project out of British Columbia, serving the energy needs of Asia." (repeating a similar statement she made in November 2013 at the environmental assessment open house .)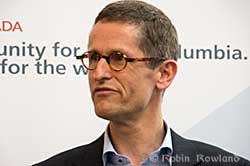 Wim Ravesloot, LNG Canada Project Director said one of the reasons for choosing the consortium was "experience in developing modular construction."
Rio Tinto Alcan's Kitimat Modernization project is also highly dependent on modular construction, with many components of the new aluminum smelter are produced in China, brought to Kitimat and then used to create the new potlines and related facilities. Publisher David Black also recently told Kitimat audiences that the reason for the possible location of his refinery near Kitimat, rather than Alberta, is due to the need for large scale modular construction.
"So we are here today to make a statement that we are here to deliver our project in a safe way without any incidents and with out having any impact on the environment." Raveslook said. "We also want to make a statement that we want to develop this project responsibly with close cooperation with the local people that live here in this town, in the village, here in Haisla lands where we are a guest and hopefully in the future as a respected neighbor."
Pierce introduced two documents that outlined what she said is LNG Canada's commitments to the community.
The first said:
LNG Canada is committed to an approach that the First Nations and local communities in the northwest realize economic benefits from this project. These benefits may come in the form of direct employment opportunities for qualified workers and potential contract opportunities for competitive businesses. Most of the employment and contract opportunities during the construction phase will be through CFSW….as a result CFSW and LNG Canada is committed to work together so that local residents can become qualified to work for LNG including investing in skills training, developing long ter partnerships with local education and training facilities in the region to develop and maintain a skilled workforce to support LNG development….a key component of this contract with the community is for you to develop the skills and training for sustainable employment at this project when it proceeds.
The second concerned Health, safety and the environment.
Health, safety and environment is integral in everything at LNG Canada. Our HSE objectives are Goal Zero, meaning no harm to people, no uncontrolled releases to the environment. We comply with life saving rules we respect and care for people and the environment. We are engaged, committed and lead by example. We set clear expectations for staff and contractors. We communicate openly and honestly, encouraging everyone to speak up. We are learning organization with a focus on continuous improvement. We hold each other accountable, share information and celebrate success.
Related