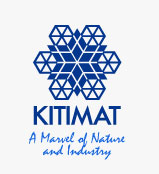 The District of Kitimat in an update on the boil water advisory says it could last until the end of the week. There is no immediate problem because the water is still being treated.
Kitimat Chief Administrative Officer Warren Waycheshen says the turbidity from the high water means that it is not possible to do a full sample on the safety of the water.   There are no delays due to the holiday weekend, the labs are open and ready, Waycheshen told Northwest Coast Energy News.
There  are no immediate dangers to Kitimat from the high water,  he said.
October 11, 2015
The boil water advisory issued by the District of Kitimat will remain in place at this time. Until further notice, continue to boil water for 2 solid minutes before using it for cooking or drinking.

The District of Kitimat, with advice from Northern Health, will not consider terminating the advisory until two samples conclude there is not a health risk. Sampling is not expected to be complete until at least the end of the week of October 12, 2015 and could be longer if the rain continues.

The District is treating the water as usual. There is nothing to suggest contamination is occurring; however, as a precautionary measure please continue to boil water prior to use.
Turbidity in this case means high levels of particulate matter in the river, including sand and possibly salts.  Waycheshen said the Kitimat River rose four metres on Saturday, then dropped by about two metres overnight but with the later Sunday afternoon rain the river is rising once again.
The Environment Canada forecast issued at 4 pm Sunday, calls for rain for the next week.
Wind Warning continues
The Environment Canada wind warning for the north coast was continued this morning but there are currently no alerts in effect for Kitimat.
Wind warning in effect for:
North Coast – coastal sections
The third and final disturbance in this series of storms is moving onto the northern BC Coast. The front will cross the central coast tonight. Southeast winds up to 110 km/h will develop over Haida Gwaii near noon then spread to the North Coast – Coastal Sections and Central Coast – Coastal Sections this afternoon. Winds will shift to southwest with the passage of the front then diminish this evening.

Damage to buildings, such as to roof shingles and windows, may occur. High winds may toss loose objects or cause tree branches to break.

Wind warnings are issued when there is a significant risk of damaging winds.
Radley Park
Waycheshen says there probably has been some flood damage to Radley Park, but at this point  District staff are unable to get into the area to assess the damage.