The Haisla Nation have filed an application with the National Energy Board for their own liquified natural gas export project, according to industry newsletters.

There is nothing at this point in the public section of the NEB website, probably due to the holiday weekend. Northwest Coast Energy News is contacting Haisla leaders for confirmation.
According to both the Daily Oil Bulletin  and Natural Gas Intelligence  the Haisla have formed three companies, Cedar 1 LNG Export, Cedar 2 LNG Export and Cedar 3 LNG Export, and have applied to the NEB for three standard 25 year export licences.
According to Natural Gas Intelligence:
The filings with the National Energy Board (NEB) envision construction starting in 2017-2020 of a network of six jetties or docks jutting out from Haisla land on the shore of Douglas Channel for floating LNG vessels. Each requested export license would enable operations by two jetties.

The plan calls for a mini-armada of six mobile processing plants, with each one capable of converting up to 400 MMcf/d of gas into liquid cargo for overseas deliveries.

Work is under way with international tanker firm Golar LNG to commission construction of the vessels in Singapore at the Keppel Shipyard, according to the applications.

With the project still in planning stages, Cedar LNG did not disclose cost estimates. Names of prospective partners in the terminals; Asian customers, BC gas suppliers and pipeline service providers were also undisclosed. Discussions are under way on all fronts with an array of industry participants, Cedar told the NEB.
The Hasila are partners in the stalled BC LNG project that ran into trouble when the original Texas based investors got into financial difficulty. AltaGas, parent company of Pacific Northern Gas, is also involved in Triton, a floating LNG project that would be at an old log sort on Douglas Channel, the same site as the BC LNG project.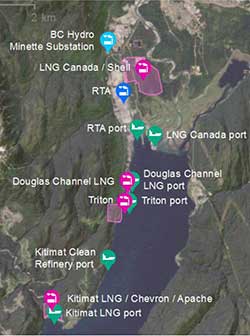 MORE TO COME