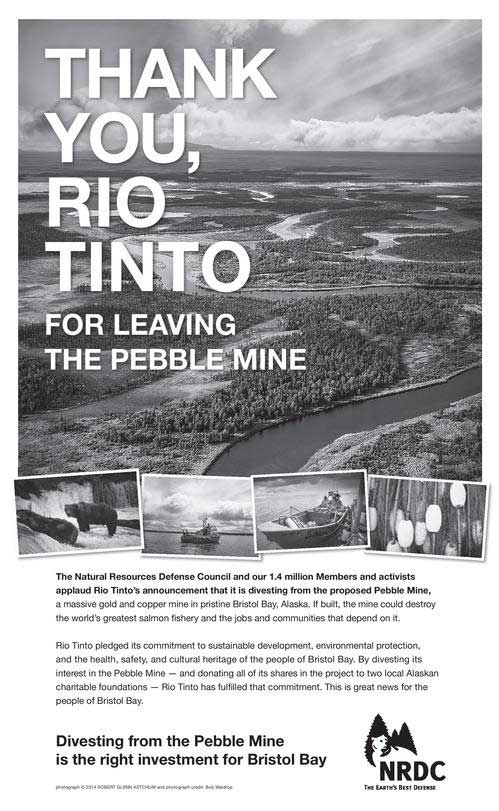 The US based Natural Resources Defence Counsel environmental group, a major opponent of both the Keystone XL and Northern Gateway pipeline projects, is praising Rio Tinto for divesting its interests in the controversial Alaska Pebble Mine project.
The NRDC is, in fact, so pleased, with Rio Tinto that they took out an expensive full page ad in London's Financial Times to congratulate the mining and smelting giant which, of course, owns Rio Tinto Alcan and the aluminum smelter in Kitimat.
Related
Rio Tinto donates $19 million Pebble Mine stake to charity
The National Resources Defence Counsel is often a favourite target for  the Harper government and oil-patch conservatives who see it as one of the foreign environmental groups interfering in Canadian affairs.
A delegation from the NRDC and Alaska First Nations met with Rio Tinto's top executives in London, according to a blog post on the organization's website by Joel Reynolds, its senior lawyer and western director, Pebble Mine: Delivering Congratulations, Not Petitions, to Rio Tinto
In the blog Reynolds writes
We've gone each year [to corporate shareholder meetings or to meet corporate executives] to fight the Pebble Mine — a 21st Century example of what the mining industry will do if given free reign, based on promises of safety, sustainability, and technological innovation that can't be kept and must not be believed….

In 2010, I also traveled to Tokyo to meet with leadership of Mitsubishi Corporation, a former significant Pebble shareholder that quietly sold all of its interest in the project eight months later.

This has become an essential aspect of our advocacy with multi-national corporations: meeting privately with company leadership and participating in the once-a-year public gathering of their shareholders, of which – in order to gain access — we are one. Attending the shareholder meetings is no fun, requiring immersion in a world where natural resources are for extraction and exploitation, where representatives from far-flung communities seeking remediation and redress from contamination recount the tragic impacts of mining on their daily lives.

But this year promised to be different for the residents of Bristol Bay – and for those of us supporting their cause.

NRDC director and lawyer Joel Reynolds shows a copy of the Financial Times ad to Kim Williams, Executive Director of the Alaska Nunamta Aulukestai, Rio Tinto CEO Sam Walsh, Reynolds, Rio Tinto Chair Jan de Plessis, Rio Tinto Director of Copper Jean-Sebastien Jacques and Bobby Andrew, Yupik elder and spokesperson for Nunamta Aulukestai (NRDC)
Reynolds goes on to write that a week after Rio Tinto announced the divestment, they were meeting with RT CEO Sam Walsh and senior executives in the London headquarters:
We were there to thank them for listening to the people of Bristol Bay who, by overwhelming numbers, have consistently voiced their opposition to the mine – a project that embodies the greatest threat ever posed to the economic lifeblood of the region, the Bristol Bay wild salmon fishery.

Each of us in turn – including Bobby Andrew (Yupik elder and spokesperson for Nunamta Aulukestai, an association of Bristol Bay village corporations and tribes; Kim Williams, Executive Director of Nunamta Aulukestai; and Bonnie Gestring, Circuitrider for Earthworks) — delivered a simple message:  that Rio Tinto had fulfilled its commitment to Bristol Bay's communities to act responsibly in a manner consistent with protection of the wild salmon fishery and the wishes of the people who depend on it.  Given the scope of the proposed Pebble Mine and the unavoidable risks of contamination associated with its location, there is only one responsible course – divestment – and that is precisely what Rio Tinto had done.  The company deserved congratulations, and we conveyed it unequivocally.
Later, meeting with Rio Tinto directors, Reynolds presented the board with a copy of the ad from the Financial Times.
In the blog, Reynolds noted that Vancouver-based Northern Dynasty Minerals is determined to proceed with the project and so the NRDC says "despite major progress against the Pebble project, our work isn't done, and we remain committed to continuing the fight – along with our Members and activists in support of the people of Bristol Bay."
In taking out the ad, NRDC's Taryn Kiekow Heimer, Senior Policy Analyst, Marine Mammal Protection Project, said:
NRDC and its 1.4 million members and activists join the people from Bristol Bay, Alaska Natives, commercial fishermen, sportsmen, jewelers, chefs, restaurant and lodge owners, and conservationists in thanking Rio Tinto for showing environmental and financial leadership by divesting from Pebble Mine.
The Haisla Nation and other groups often quoted NRDC studies on pipelines in their presentations before the Northern Gateway Joint Review Panel.