Canada and Australia are rivals in the "new frontier" of liquified natural gas export sales to Asia, a panel of energy marketing executives told the National Energy Board Tuesday at hearings into the KM LNG in Kitimat.
The "marketing panel" testifying before the board included Kenny Patterson, Vice President LNG Marketing and Shipping for Apache Energy, Sean Bolks, Apache Director of Corporate Risk Management, Jamie Bowman, Vice President of Marketing for EOG and David Thorn,Vice President, Canadian marketing for Encana and two consultants.
Patterson told the NEB at more than one point during his testimony that Canada was the "new frontier" for liquified natural gas, and so was attracting a good deal of interest from countries across East Asia who need more natural gas supplies.
Patterson and the other executives on the panel refused to be specific on who the customers actually are, despite cross-examination from NEB counsel Parvez Khan and additional questions from the NEB presiding member Lynn Mercier.
Patterson said Apache couldn't go into individual buyers, so Khan asked: "How many different buyers n a general sense?" to which Patterson replied that in Asia, the KM LNG partners, which include Apache, EOG and Encana, were general discussions with seven to eight major Asian LNG companies as well as other smaller players.
That answer came despite the fact that earlier in the day in Kuala Lumpur at the Asia Oil and Gas Conference, Mate' Parentich, general manager of LNG marketing at Apache, said the company would soon conclude talks on the sale of 85 percent of liquefied natural gas from the Kitimat terminal.
Asked for specifics by Bloomberg News, a Houston based Apache spokesman Bill Mintz then said that no binding contracts had yet been signed for the Kitimat project.
Bloomberg later moved a corrected and updated version of the story, including the statement that no contracts have yet been signed.
Khan asked about one Memorandum of Understanding signed with KM LNG. Again the panel refused to be specific. Bowman said the MOU had been signed with the previous partnership in KM LNG and while the MOU had not yet expired, it was subject to further negotiations.
Khan and Mercier were both aware that any agreements with potential buyers were "subject to regulatory approval," which, of course, is the National Energy Board's role, but again they were unable to drag any specifics out of the executives on the marketing panel.
The panel members told the NEB members that Korea and Taiwan are already well established LNG markets and China was beginning to be more aggressive as an LNG buyer. Japan, which was devastated by the earthquake in March and lost of a lot nuclear powered electrical generation capacity is now scrambling to catch up with its Asian neighbors. The executives told the NEB panel that both Indonesia and Malaysia will also become more important buyers for LNG in the Canadian market as their domestic demand grows.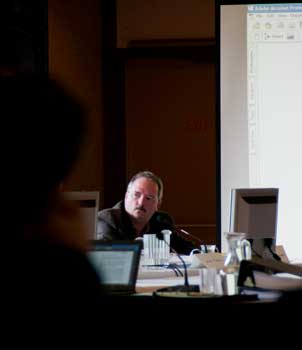 Noting that Patterson is based in Perth, Australia, Mercier asked the executives about the recent announcement by Shell that it would build a floating LNG platform off Australia.
Panel members replied that the Asian markets want long term, secure sources of supply, with multi-billion dollar contracts for between 10 and 20 years. As stable, market-driven countries with ample supplies of natural gas, both Canada and Australia could fulfill those needs, panel members said. Companies operating in both countries would require those multi-billion, multi-year contracts to justify the investment in natural gas extraction and transportation.
Jamie Bowman, Vice President of Marketing for EOG listens as fellow panel members testify before the NEB. (Robin Rowland/Northwest Coast Energy News)