Environment Oceans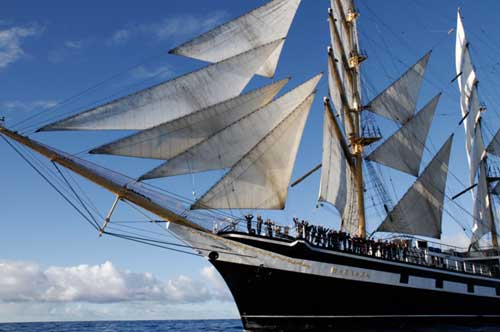 The Russian sail training vessel STS Pallada. (Pallada)

Ever since the March 11 earthquake and tsunami that devastated parts of northeastern Japan, scientists have been using computer models to track the debris that was swept out to sea by the waves.
Now a Russian sail training vessel has found the debris in mid-Pacific nearing Midway Island.
The STS Pallada was on a sail training mission when the officers and crew became aware of the computer models created by the International Pacific Research Center at the University of Hawai at Manoa. So on its way home from Honolulu to Vladivostok the ship went looking for the debris.
The IPRC has now posted some excerpts from the Pallada's log, as transmitted by Natalia Borodina, the Pallada Information and Education mate.
Sept. 22 in position 31.42.21 N and 174.45.21 E we picked up on board the Japanese fishing boat. Radioactivity normal, we've checked it with the Geiger counter. At approaches to the mentioned position (maybe 10-15 minutes before) we also sighted a TV set, fridge and a couple of home appliances.
Sept. 27 We keep sighting every day things like wood boards, plastic bottles, buoys from fishing nets (small and big ones). an object resembling a wash basin, other wastes. All these objects are floating by the ship.
With the data provided by the Pallada, the scientists in Hawaii are reviving the computer models of the debris drift. They expect the debris to reach Midway sometime this winter. Some debris will reach the main Hawaiian Islands and eventually the west coast of North America.
A map of the tsunami debris field by Nikolai Maximenko and Jan Hafner of IPRC. The line shows the track of the Pallada where the debris was spotted between Sept. 21 and Sept. 28, 2011. The red rhombus (diamond) marks the location where the Japanese boat was found. The red circle denotes maximum debris density spotted by the Pallada. The purple shows the extent of the debris field from the updated university computer model as of Sept. 25. Click for larger image. (IPRC)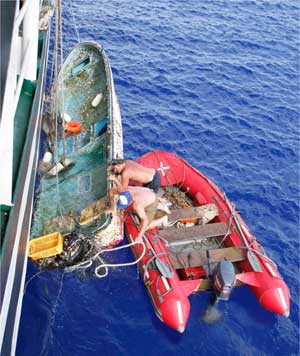 The crew of the Pallada hoists on board a Japanese boat, registered in Fukishima prefecture, and presumably washed out to sea during the March 11, 2011 tsunami. (Pallada)

IPRC/ Pallada news release (pdf)