Environment Arts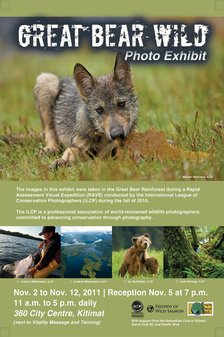 The Great Bear Wild photo exhibit arrives in Kitimat Wednesday. The exhibit will open in a Kitimat store front, in the City Centre mall, for a ten day run, on Wednesday Nov. 2, 2011, continuing to Nov. 12. The opening reception is Saturday, Nov. 5 at 7 p.m.
Bringing the exhibit to Kitimat took a lot of time and effort sources say. That's because the District of Kitimat's officially neutral stance on the Enbridge Northern Gateway precluded official venues such as the Riverlodge Recreation Centre and the Kitimat Museum. The local environmental sponsors of the exhibit also tried, unsuccessfully, sources say, to find a space in a number of other possible venues around town.
The local sponsors are Douglas Channel Watch, Kitimat Valley Naturalists and Friends of the Wild Salmon.
At the beginning of September. 2010, the International League of Conservation Photographers sent some of the world's best shooters on a RAVE (Rapid Assessment Visual Expedition) into the Great Bear Rainforest. That photo exhibit was sponsored by Pacific Wild, Save Our Seas, the Gitga'at First Nation and National Geographic. The shoot concentrated on the area along the coast within the boundaries of the Great Bear Rainforest and the mouth of Douglas Channel around Hartley Bay.
The ILCP says
The 14-day expedition to the Great Bear Rainforest called upon 7
world-renowned photographers and 3 videographers to thoroughly document
the region's landscapes, wildlife, and culture. The RAVE provided media
support to the First Nations and environmental groups seeking to stop
the proposed Enbridge Gateway pipeline project (and thus expansion of
the tar sands) and to expose the plan to lift the oil tanker ship
moratorium.
The photographers did not come any further up Douglas Channel. One ILCP photographer, Neil Evers Osborne, is photographing the route of the pipeline by air. That project is ongoing, hanpered, in part, by this summer's miserable weather.