District of Kitimat Council voted unanimously Monday, March 19, 2012, to invite Enbridge to make a presentation to council about the concerns about avalanches along the Northern Gateway pipeline route that could threaten the town's drinking water.
Two weeks earlier Murray Minchin of Douglas Channel Watch gave a detailed presentation that he said showed evidence of major avalanches in the past on the bitumen and condensate pipelines route. Minchin said at the time a major avalanche could breach the diluted bitumen pipeline and quickly threaten Kitimat's drinking water.
At the time, Minchin asked that council sponsor a new public forum that would include representatives from Enbridge, the Haisla First Nation and an environmental group.
However, Monday's motion from Councillor Mario Feldhoff read:
That we invite Enbridge to make a presentation to Council addressing issues raised by Douglas Channel Watch in Mr Minchin's March 5, 2012, presentation to Council entitled Nimbus Mountain area.
The motion was quickly carried with almost no discussion.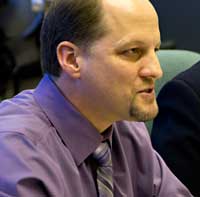 The water supply problem is worrying some members of council. Councillor Phil Germuth said that in the future he will be introducing a motion that will call attention to worries that, in case of a pipeline breach, that Kitimat would not have a water supply for months or even years.
At the opening of the meeting, Veronica Bilash, of Douglas Channel Watch, gave a presentation, based on information from West Coast Environmental Law on the responsibilities of municipalities when it comes to the proposed pipeline and presentations to the Northern Gateway Joint Review process.
Bilash criticized council for not participating in the Joint Review panel.
Administrator Ron Poole said Kitimat is an intervenor in the process, but, so far, Kitimat has not formally taken part in the Joint Review. Kitimat is actually listed as a "government participant." The district has not filed any documents with the JRP.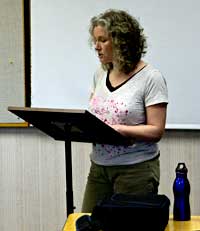 The council has voted to remain neutral and not take any position until the JRP has issued its report. Bilash said that this position is preventing Kitimat from making any views based on municipal responsibilities until it is too late.
In the presentation, written by West Coast Environmental Law staff lawyer, Josh Patterson, points out that municipal governments have responsibility for
human occupancy and resource use, social and cultural well-being, health, infrastructure and services, and employment and the economy
infrastructure and services for construction-related traffic and transient population
Patterson noted that local governments will bear the burden "for any emergency response and clean-up and lasting economic, employment, health, environmental and social impacts form a potential large oil spill."
Bilash said that Kitimat would face major impacts in these areas and that by remaining neutral, council was not facing its responsibilities.