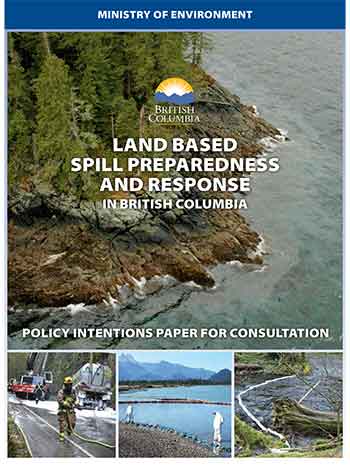 Residents of British Columbia have just two days to file information and opinions on the province's  plans for "options for strengthening BC's spill preparedness and response policies and capacity."
A page on the BC Ministry of the Environment's web site  wants public input as part of "BC's five conditions necessary for support of heavy oil projects."
Premier Christy Clark announced her controversial five conditions for pipeline development in BC in July 2012. Clark's announcement was aimed both at the Northern Gateway Pipeline which would have its terminal in Kitimat, and the proposed Kinder Morgan pipeline expansion which has its terminal in Vancouver.
It is not clear how long the web page has been up,  but the call for input from the public has received little, if any, publicity. The deadline for public submissions is February 15, 2013.
(Northwest Coast Energy News was alerted to the story by a Kitimat-based hiking club)
A separate call for academic papers had a deadline of January 25. The province plans a conference on oil spill response  in Vancouver from March 25 to March 27. The website says"
As part of British Columbia's commitment to a world leading preparedness and response regime for land based spills, it is hosting a symposium March 25-27, 2013 in Vancouver, BC. Due to the anticipated high interest in the symposium, attendance is by invitation only.
One question would be if invitation only is designed to exclude activist groups who may wish to participate or demonstrate. The Northern Gateway Joint Review panel banned public input at hearings in Vancouver and Victoria earlier this year to try, not always successfully, to head off demonstrations. The webpage says:
In keeping with the established polluter-pay principle, and recognizing the increase in development activities across the province, the Ministry of Environment (the ministry) is reviewing industry funded options for strengthening BC's spill preparedness and response policies and capacity. Land based spill refers to any spill impacting the terrestrial environment, including coastal shorelines, regardless of the source.

This review addresses three aspects of land based spill preparedness and response: World leading regime for land based spill preparedness and response

Effective and efficient rules for restoration of the environment following a spill

Effective government oversight and coordination of industry spill response The ministry has developed a policy intentions paper for consultation (intentions paper) on the three aspects of the province's land based spill preparedness and response regime under consideration.

The purpose of this intentions paper is to describe the ministry's proposed policy direction and seek input on enhancing spill preparedness and response in BC. The intentions paper is a discussion document and your feedback will influence the policy approach.
Although the call for input is on the ministry website, the contact is a management consulting firm C. Rankin & Associates.