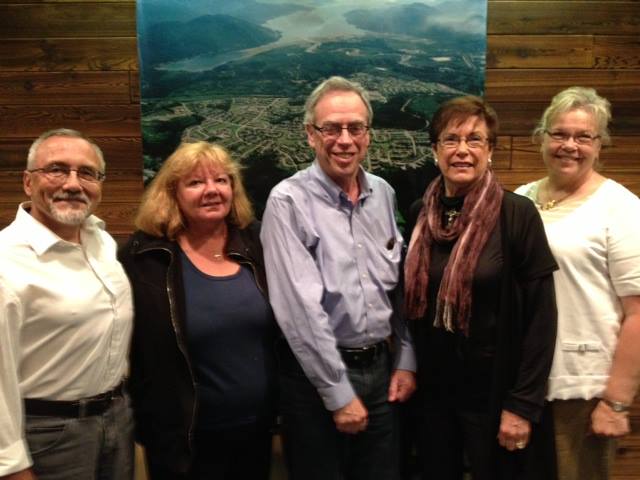 Natural Resources Minister Joe Oliver made a brief visit to the Kitimat area on Tuesday July 23, 2013, meeting Haisla Chief Counsellor Ellis Ross. In the original planning for the visit, Oliver was not scheduled to meet with District of Kitimat Council or other members of the community, snubbing Kitimat in only his second visit to the region since he was appointed minister after the 2011 federal election.
A half hour meeting with available members of the District of Kitimat Council was squeezed in only after intense lobbying from Mayor Joanne Monaghan.
The Natural Resources department public relations staff also chose to ignore (or exclude) local media, with the exception of the Northern Sentinel. Northwest Coast Energy News, Kitimat Daily, CFTK and CRFN were not informed and did not accompany Oliver on his hour long tour of Douglas Channel.
After the meeting, Natural Resources Canada issued a news release  saying that he had concluded "a successful visit to Kitimat," hosted by the Haisla:
Minister Oliver discussed opportunities to increase First Nations' participation in resource development and received a tour of the Douglas Channel hosted by Chief Councilor Ellis Ross.

"I am privileged to have been invited by the Haisla Nation to gain their perspective, listen to their concerns and discuss our plans for Responsible Resource Development and our initiatives to strengthen environmental protection," said Minister Oliver. "Resource development presents a tremendous opportunity for First Nations groups like the Haisla. Our government has also been clear that development will only proceed if it is safe for the environment…"

"Responsible resource development has the potential to create significant new opportunities for Aboriginal peoples across Canada," said Minister Oliver. "The Government will make every effort to ensure that…

Aboriginal peoples in Canada have the opportunity to share the benefits of energy resource development in the years ahead, while ensuring that projects are developed in a manner that has the highest regard for safety and the environment."

"The safe and responsible diversification of our energy markets is a priority for the Government of Canada," said Minister Oliver. "Our energy industry must remain competitive to ensure communities across Canada continue to benefit from our natural resource wealth."
The Northern Sentinel reported that Oliver mainly concentrated on liquified natural gas development and tried to avoid questions about the Enbridge Northern Gateway project. Oliver repeated the federal government's position on safety outlining the programs announced last march to expand pipeline expansion and increase penalties for safety violations.
On LNG, Oliver told the Sentinel, "These are decisions made by the private sector, it's not us telling us don't do this project…they're going to figure that out themselves," he said.
On the Enbridge Northern Gateway Pipelines Project, Oliver told the Sentinel, "We have a very strong interest in seeing the markets diversify, and that includes moving oil to Asia," he said. "However, we're not going to stomp over the regulatory process. It's subject to regulatory review, the joint review panel will be coming to its conclusion this December. We're waiting for what they have to say…I know people have a view of what our opinion is but we don't offer an opinion before we hear from the regulator."
He added that once the review is done, "At that point we'll know more because they will have a done a comprehensive, scientific audit."
Councillor Mary Murphy told Northwest Coast Energy News that she was told by a Haisla friend early Tuesday morning that Oliver was coming to visit Kitamaat Village and immediately informed Mayor Joanne Monaghan.
Monaghan said, "I called his office in Ottawa and said I wanted a meeting  as well  seeing he was here. After an all day back and forth until three o'clock he said he would come at four for half an hour."
Councillor Corinne Scott said. "As none of us were aware of the Minister being in Kitimat, we scrambled to have Mary, Rob, the Mayor and I available to meet with him, along with [DOK Chief Admnistrative Officer] Ron [Poole] and [Economic Development Officer] Rose Klukas."
Councillors Mario Feldhoff, Phil Germuth and Edward Empinado were unable to attend because they working at the time and could not get away with such short notice.  Sources tell Northwest Coast Energy News that even pro-development members of the local business community were not informed about Oliver's visit.
Murphy described the meeting "as very beneficial to us."  A couple of other sources, familiar with accounts of the meeting, however, both told Northwest Coast Energy News there was barely enough time after formalities to ask questions of the minister before he dashed out the door for the airport.
Oliver last visited the region in March, to make an announcement in Terrace. At that time he did not visit Kitimat.