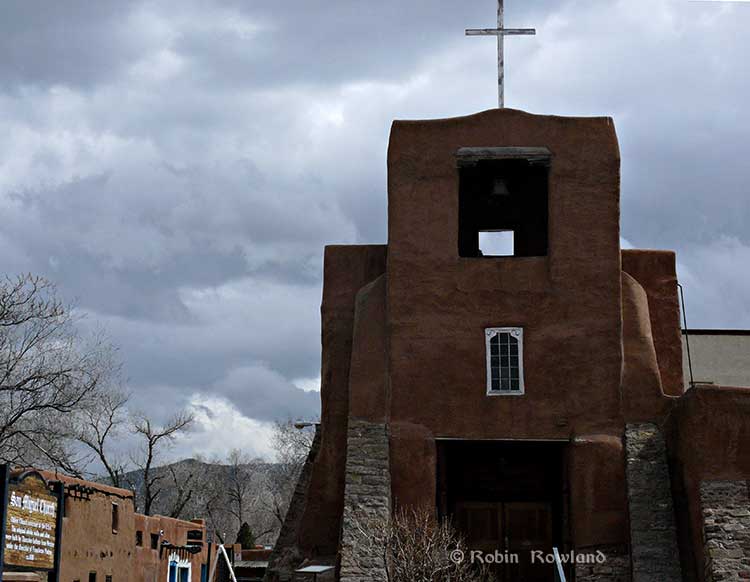 Updated with additional links
"Is there  a longterm vision for Kitimat?" Spencer Edwards,  one of the public delegates, asked District of Kitimat Council Monday night, August 18, as there was yet another public hearing on the highly controversial development on Kingfisher Avenue.
If there is a vision for the future of development in Kitimat, it appears, to say the least, that both Council and the overworked Community Planning and Development division are struggling to find something. It is more likely that with the sudden increase in development, that both Council and staff just don't have time to "do the vision thing."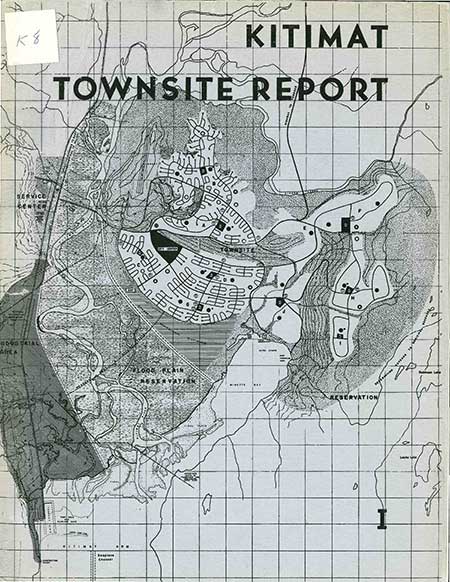 The growing objections to the Kingfisher development of either 40 or 53 townhouses and a second development Riverbrook Estates, that would be beside the Dyke Road  off Kuldo near to the Riverlodge Tennis Courts, a mix of single family homes, townhouses and apartments, shows the vision gap.
Public delegations are demanding just that— a vision.
Download Clarence Stein's Kitimat Townsite Report from the DoK website (large PDF  file)
At council meetings over the past weeks, a number of delegates have referred to Clarence Stein's original vision for Kitimat from the 1950s. A note to Council from the residents of Marquette Street presented in opposition to the Kingfisher development says:
This is not what the famous American Architect, Urban Planner and Founder of the Garden Cities movement, Clarence Stein had envisioned a modern town with a population of 50,000 resident when he designed Kitimat over 60 years ago. He would be turning inside his grave.
Stein asked the same question. In his plan for Kitimat (page 45) he said future councils, staff and developers must ask: "What do the people themselves want?"
It's fairly obvious by now that what the people of Kitimat want is more housing—there is, after all, a housing shortage at the moment. It also crystal clear that the residents of Kitimat do not want cookie cutter town houses and apartments built, as the Marquette note says "as is happening in Surrey, Port Coquitlam and so many other places in the Lower Mainland."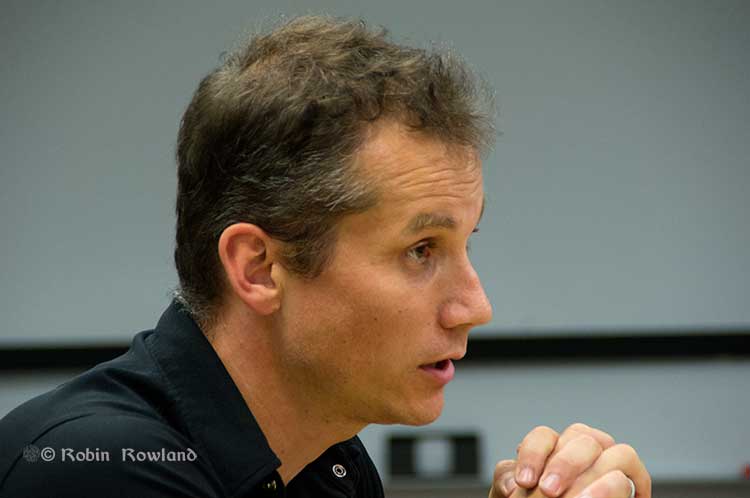 "Kitimat is full of hicks"
While developers (just like energy companies) come before Council and make presentations of their vision, with assurances of respect for this community, there is a dark side.
When the developer delegations left the Council Chambers Monday after their presentations, some of them were overheard by witnesses in the parking lot disparaging what had just gone on inside from both council members and citizen delegations, saying that "Kitimat is unsophisticated"…."doesn't understand how things were done in the big city" and… "Can't make up their minds."
As one of my sources who overhead the conversation remarked, "They must think Kitimat is full of hicks."
While it is uncertain which of the developer and real estate delegations made the remarks in the dark, it is clear if that is the real attitude toward development in Kitimat, then vision, not "let's get on with it" must be the priority.
There must be strong development regulations to ensure that anyone building in the District must be held strictly to account to keep those assurances (and not be allowed to say market conditions have changed to get out of any commitments). More than that what Kitimat needs and needs now is an updated version of Stein's vision, not the "motherhood" statements found in the current Official Community Plan.
So Kitimat, do you know the way to Santa Fe? (We'll get there in bit).
Community Plan
Council and staff keep referring to the Official Community Plan (OCP) which some delegates complained was hard to find on the District website. (You can download it from the District website at http://www.kitimat.ca/assets/Business/PDFs/official-community-plan-2008.pdf )
Unfortunately the OCP is more of a motherhood document than a plan for the future of Kitimat. It's also obsolete: a 2007-2008 rewrite of the original 1987 plan, updated with a few paragraphs in 2013 (as required by law, it is reconsidered every five years) There's an already obsolete table predicting continuing decline of Kitimat's population over the next quarter century (although a nearby graph does include possible population increases as well as declines).
On the future of Kitimat, the opening paragraphs read circa 2008
Kitimat's population, after peaking in the mid-80s, has been in a general decline to fewer people than in 1956, primarily because of external factors beyond the control of the local municipality. Kitimat, like many other rural communities across Canada, is being affected by world markets and resultant demographic shifts as economic power and population is concentrated in major metropolitan centres. It is hoped that population will grow again and there are potential projects that would support this. New industry may locate here or existing businesses may expand based on the deep sea port, relatively low-priced land, and the proximity to natural resources. Kitimat's future remains uncertain.
Even with the few updates in 2013, it seems no one expected the current building boom. That means the OCP can't handle the boom, whether or not it continues or fades away.
The problem facing those who want development in Kitimat is that much of provincial law is pretty clear, a developer looks at the OCP, which has little specifics, then the zoning and then, if everything is in order, apply for a development permit, gets it and the goes ahead.
At Monday's meeting,  Edwards asked, "Is there any indication of what quality of development is being put in place?"
Deputy Administrative Officer, Warren Waycheshen, replied that the zoning plan for the Kingfisher development "allows what the setbacks are going to be, height, distances, it doesn't set the building quality. That will come through the development permit stage."
There have been the same arguments over and over in Kitimat in the past year, where a new developer or a developer doing renovations, often from out of town, were able to go ahead and do what they wanted, with little regard for the residents of Kitimat, its history and the vision of Clarence Stein.
This brings me to Santa Fe, how Kitimat can maintain Stein's vision and how Kitimat can use the development permit process to ensure that happens. That means an urgent program of updating and strengthening the development permit system to reflect Stein's vision across the district.
Santa Fe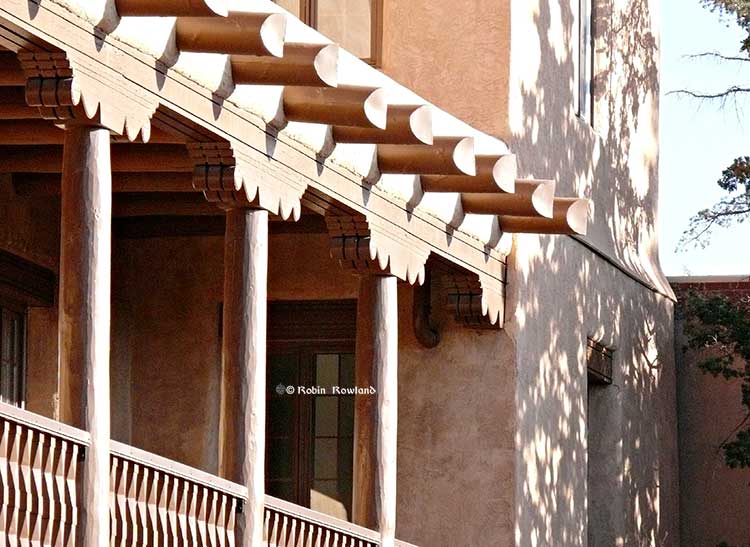 Santa Fe, New Mexico, was a crossroads of the Old West, home of the Pueblo First Nation which for centuries before the coming of Europeans built pueblos out of adobe. Adobe  (not the software) is an old Arabic word meaning "mud brick" adopted into Spanish during the time of the Moors, brought to the New World and used by the Spanish in New Mexico, and taken up by the Americans who came via the Santa Fe Trail and then the railhead for the Atchison, Topeka and Santa Fe Railway.
In 1912, New Mexico became the 47th US State; Santa Fe became the capital.
At the same time, the Santa Fe local government adopted the 1912 equivalent of a BC Official Community Plan,
Here from Wikipedia is a short explanation: 
In 1912, when the town had only 5,000 people, the city's civic leaders designed and enacted a sophisticated city plan that incorporated elements of the City Beautiful movement, the city planning movement, and the German historic preservation movement. It anticipated limited future growth, considered the scarcity of water, and recognized the future prospects of suburban development on the outskirts. The planners foresaw conflicts between preservationists and scientific planners. They set forth the principle that historic streets and structures be preserved and that new development must be harmonious with the city's character.
As CBS News Sunday Morning reported earlier this year: 
The end of the fabled trail of pioneer days, Santa Fe is today the oldest state capital city in our nation. And if its earth-tone structures hark back to the Pueblo originals, well, that's by design….. Almost a century ago, city fathers mandated use of the style all over town, predicting — accurately, as it turned out — that it would be good for the tourist trade. Today, even fast food outlets and big box stores are clad in Santa Fe style.
That CBS report was right on. I visited Santa Fe a few years ago, and noted how much of the town, especially the famous art galleries reflected that adobe style. The big box stores and the fast food joints are the same—and who cares about corporate building branding; the familiar signs were all that was needed.
What struck me was a mall I saw on the outskirts of town while driving to the airport. It was a mall, in many ways no different from the boring cookie cutter malls you see in Surrey, Coquitlam or Nanaimo—with one exception. It was built in the Santa Fe Adobe Style and looked a whole lot better than the uniform malls you see from almost every highway in North America.
Editor's Note: CBS News Sunday Morning is scheduled to repeat its special report on Santa Fe By Design, this Sunday,  August 24.   Due to sports programming Sunday Morning is usually pre-empted in the Pacific Time Zone. If you have cable or satellite and access to a CBS east coast station, watch or set your PVR from 0900 to 1030 ET (0600 to 0730  PT)
That is what "new development must be harmonious with the city's character" means and that's what Kitimat should do. Make sure all future development is truly harmonious with Kitimat's character.
Not that there aren't the usual tensions and disputes over what harmonious means. As the Wall Street Journal reported last year, there is now some resistance to the old style among residents, including those outside the municipality's jurisdiction or away from the historic districts where the rules are the strictest.
As the Journal reports:
a new wave of contemporary homes is springing up around the city's less regulated outer edges, transforming the once uniform landscape and pushing southwestern design in new directions. Glints of glass and steel are now dotting the city's earth-toned desert surroundings
Some home owners want to be completely contemporary and get away from the adobe style. On the other hand, as the Journal reported, some architects are working on innovative designs that blend the adobe style with the ultra modern:
Some local architects aim to meld traditional and contemporary architecture in their designs. While traditional materials of adobe homes—stucco and plaster walls, for example—are still used in many contemporary homes, the lines on modern designs are crisp and clean instead of rounded. Many of the contemporary homes around Santa Fe are characterized by large expanses of glass, clerestory windows and skylights—sometimes in unexpected places, such as in laundry rooms and showers—and muted stucco exteriors accented with steel that blend into the landscape.
A vision for development permits
Note that these new buildings "blend into the landscape," something that Clarence Stein emphasized for Kitimat.
Although Kitimat Community Planning and Development says on their website that Stein's Townsite Report is a "must read," it is doubtful that any of the developers have actually read it.
Note also that the Garden City concept that was the foundation of Kitimat was itself, in part, based on the now century-old City Beautiful movement that gave Santa Fe its character.
So there is a connection between the design of that desert city and this small town in the rainforest of the Northwest.
After Monday's Council meeting, I asked Warren Waycheshen if there were any "heritage" or "look and feel" policies in British Columbia. Waycheshen told me that while it is difficult to mandate "harmonious character" and "blending into the landscape" at the zoning level, it can and has been done at the development permit stage in a few BC communities.
The closest example is Smithers which mandates downtown businesses be consistent with the town's European alpine style. As well, both Whistler and Gibson's have stringent development permit guidelines that do maintain the nature of both towns.
(And for those developers who think that wanting harmonious development is "unsophisticated," well they can look at Santa Fe and Whistler)
Up until now in Kitimat, some in politics, some in the real estate and development communities have had an Oliver Twist approach, saying to every developer "Please, sir can we have some more?"
So far none of the designs presented before Council for any development have shown any innovation or imagination. None of them have any harmony with Kitimat's character
. Even with the need for housing, there is time to slow things down and reconsider whether taking "off the shelf" projects originally designed for the land crowded Lower Mainland are right for Kitimat.
That's because none of the Liquified Natural Gas projects are anywhere close to the Final Investment Decision Stage.
Many of the delegations to Council have warned about overbuilding and the possibility that slap dash, cookie cutter development could quickly deteriorate into slums if the boom doesn't happen. There is some limited time to consider all the issues. Most residents who live around the Kingfisher development would prefer buildings with a higher quality that could be sold on the basis of its proximity to the golf course. There are fears that many developments, based on the Lower Mainland "build higher" philosophy would be inappropriate for seniors.
There is one consideration—that is the size of buildings. Both District Staff and developers cite changing demographics (average household size dropping from 3.2 to 2.4 persons) and the fact the large single family homes, such as the "berry" development by Oviatt Construction are too costly for young families who would prefer and could afford townhouses.

Harmonious townhouses
We have to ask what kind of townhouses? The original Stein report, in a chapter written by planning subcontractors Mayer and Whittlesey noted on page 220,
Larger-than-normal houses, for people will stay much indoors; covered terraces and breezeways where children can play. A large number of houses should have a cellar or attic space for workbench and game table. Provision of wood burning fireplaces should have special consideration, as a focus of interest and cheer in a rainy climate.
So smaller houses for affordability or larger houses so people can get through the fall and winter without getting cabin fever? Just how much Seasonal Affective Disorder happens in Kitimat? And beside the weather, people are staying indoors a lot of these days watching satellite TV, playing video games and on the Internet. All factors the developers aren't considering.
Have Kitimat's planners and builders ever considered how home design might help alleviate SAD?
Let's throw out the boxes and have the architects go back to the drawing board or AutoCAD and design a townhouse that is right for Kitimat.
There are a lot of worries about snow clearing and parking in the narrow streets of the proposed developments. While district staff say the Kingfisher development meets "municipal parking standards" perhaps all those concerns by experienced long-time residents mean that those standards should be reconsidered rather than used as a rubber stamp.
It's amazing that in the late 1940s and 1950s a bunch of men in New York (yes men, Stein, the man of his age, calls for planning by men) who at first had never been here, could imagine and create the Kitimat that became "the town of the future," while today developers from Vancouver, Calgary or wherever do nothing more than pull an AutoCAD file off a hard drive, make a few tweaks and cosmetic changes and then try to convince residents, staff and council that this will be great for Kitimat.
Yes many of the original houses in Kitimat were "off the shelf" at the time but they were also often new and innovative for the 1950s. This is a chance to create a new vision but practical vision for the 21st century. The provincial government has mandated all community planning must consider climate change. There is no indication at all that the current development designs take climate into consideration.
What must be done
I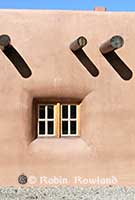 t's time for Kitimat to rewrite the development permit standards, so that the original Stein vision is incorporated into every future development, whether residential, commercial, industrial or institutional. Some of the ideas will have to be updated from the 1950s to reflect changes in demographics, economics and technology. If Santa Fe, a modern hub of artistic and high tech innovation can do it, Kitimat can do it on a smaller scale.
Immediately
Since time is somewhat tight, ask the current developers, on a voluntary basis, to submit new ideas that show their projects won't be just another subdivision in Surrey, new designs compatible with Kitimat.  If developers want to build here, now and in the future, they are going to have to use their imagination and skill to bring Stein's vision into the 21st century. Tell the developers that now they have to prove to Kitimatians that they don't really believe this is a hick town.
Short term
Update development rules and guidelines
District staff, Council members, the Housing Committee and other interested groups should take a crash look at development guidelines and development permit rules and as soon as possible update those that can act as a guideline for future changes that reflect the Stein vision.
Hire a District Solicitor
We recommended this during the Enbridge Northern Gateway Joint Review hearings and when the LNG companies began environmental review. All the problems with potential development again show the need for a full time District Solicitor who will be in the District offices working with staff and members of council and attending council meetings to understand the needs of the residents of Kitimat on all issues. Having a lawyer on retainer who is not involved with community is no longer an option.
Medium term
Overhaul development rules and guidelines
Continue the work recommended for the short term and have staff, locally based developers and locally based engineering companies familiar with Kitimat form a task force to overhaul the development rules and guidelines so that developments fit into both an updated Clarence Stein vision and the uncertain economics of this region
Longer term
A new Official Community Plan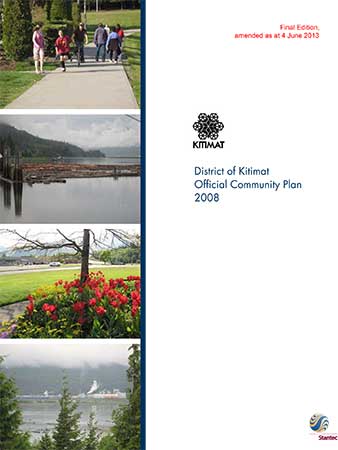 The current "maybe this, may be that" Official Community Plan is completely inadequate for the needs of Kitimat. It is little more than a collection of database copy and paste, motherhood bureaucrat speak with no significant reference to Stein's original vision.
The community needs an OCP that has a strong, well-defined two track approach, one that assumes the LNG boom will go ahead, that Kitimat will grow, and a second that assumes that the new industry might pass us by and Kitimat may have to revert to planning diversification with an emphasis on tourism.
That also means looking for and hiring the Clarence Stein of the 21st Century, whether that person is in New York, Vancouver, London or Singapore.
The current OCP was largely written by Stantec, which seems to be the go-to consulting firm for everyone. While the involvement of Stantec may not have been an issue in 2008, Stantec is the same company that is now working for Enbridge and most of the LNG projects. That is a clear conflict of interest.
Kitimat needs a visionary who can build on what Stein and his colleagues did 60 years ago. While Stein was working for Alcan, what is needed in 2014 and beyond is truly independent consultant, not one serving a dozen different masters.
That includes maintaining harmony with the forested nature of the region. Without going completely the same way as Santa Fe, perhaps future construction in Kitimat should conform, within market conditions, to a style that reflects the demands of building in the northwest, like heavy snow loads and long days of dreary rain while at the same time is more reflective of the northwest natural environment. That means including the brilliant idea of sidewalks and green spaces at the back of houses, not just boxes on standard suburban streets. That doesn't have to mean duplicates of First Nations' longhouses or settlers' log cabins.
A Kitimat "look and feel" should challenge architects to create a style that says Kitimat and the northwest while at the same time drawing plans that are economic for both the developer and the buyer, just as architects in Santa Fe are bringing a century-old vision into the 21st century.
If the current crop of developers think that Kitimat is unsophisticated, doesn't understand what goes on big cities, and takes too long to make its mind, well we live here and you don't and you won't. If Kitimat does have a rosy economic future, it is highly likely that the community and district can find developers who aren't in-and-out carpet-baggers but who will build something that will make a profit, be affordable for the buyer and be harmonious with the community and Stein's vision updated for the 21st century.
As Stein asked, "What do the people themselves want?"
Editor's note: My late father, Frederic Rowland, was Alcan's assistant property manager in Kitimat, involved in town planning from Vancouver in the mid-50s and in Kitimat from 1957 to 1965 and thus one of the Alcan staff charged with implementing Stein's vision.
Additional links
Kitimat Daily
Kingfisher Housing Development to be continued in September
Massive Density Increase Gets Mixed Reviews
Santa Fe
Santa Fe's Historic Adobe Architecture
Los Angeles Times
Santa Fe proudly boasts its Pueblo-style architecture