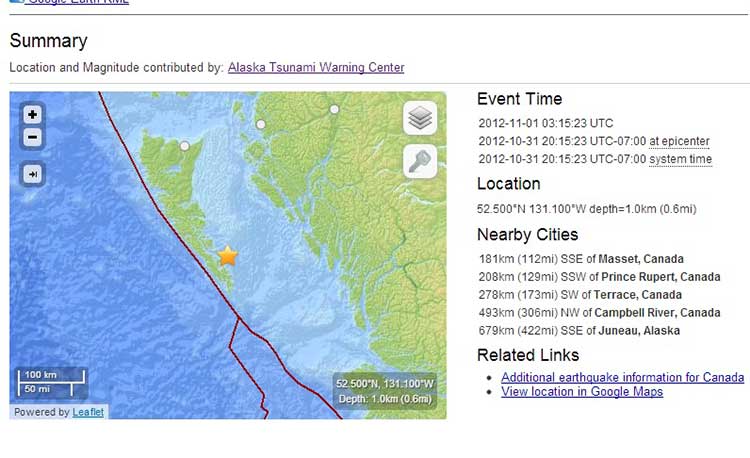 The latest aftershock from the 7.7 magnitude earthquake off Haida Gwaii occurred east of the islands, according to preliminary data released by the US Geological Survey. Canadian data, however, shows the quake west of Haida Gwaii.
The USGS marked the aftershock at 52.500°N 131.100°W at a depth of one kilometre or .6 mile. No tsunami warning was issued.
Natural Resouces Canada data puts the quake at 52.4 North 132.4 West, adding the earthquake "was felt at Queen Charlotte City and Skidegate. There are no reports of damage, and none would be expected."
The NRC map shows the aftershock on the Queen Charlotte fault line.  However, if the USGS map is correct, an aftershock on the east side of Haida Gwaii could raise questions of the potential hazard for Douglas Channel.
Both services said the aftershock occurred at 3:15 am November 1, using Universal Time. An automatic bulletin from the Canadian earthquake centre recorded the quake as 5.0 20:15 PDT. Oct, 31, 97 km SSW of Queen Charlotte City.
No tsunami warning was issued.
According to the USGS the aftershock was
181km (112mi) SSE of Masset, Canada
208km (129mi) SSW of Prince Rupert, Canada
278km (173mi) SW of Terrace, Canada
493km (306mi) NW of Campbell River, Canada
679km (422mi) SSE of Juneau, Alaska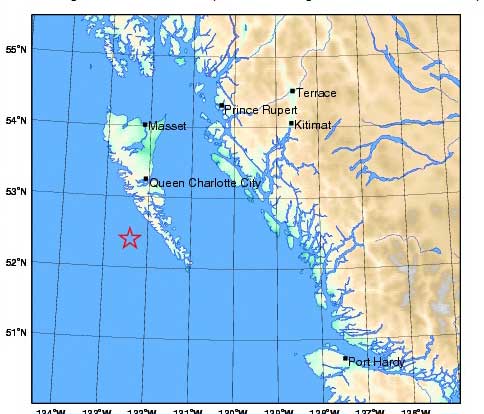 USGS link to add aftershock location to Google Maps
Natural Resources Canada earthquake report
Northwest Coast Energy News will update this story if newer data is available Thursday morning. Although no tsunami warning was issued, tonight's event is another example of the confusion that can result from automatically generated earthquake data. If the event east of Haida Gwaii is confirmed, it means that the level of tsunami hazard for Douglas Channel will have to be reconsidered.