At least three rallies are planned for Kitimat on Tuesday, June 17, as BC Premier Christy Clark is scheduled to arrive to announce a new agreement with the Haisla Nation and, a few hours later, the Harper government will announce its decision on approving the Northern Gateway project.
The Harper government is expected to approve the highly controversial pipeline, terminal and tanker project and once that happens, it is  likely that Kitimat will be the focus of protests against (and perhaps for) Northern Gateway.
District Council was told Monday,  June 16, that the RCMP and District staff have had meetings to come up with contingency plans if large numbers of protesters come to Kitimat in the future.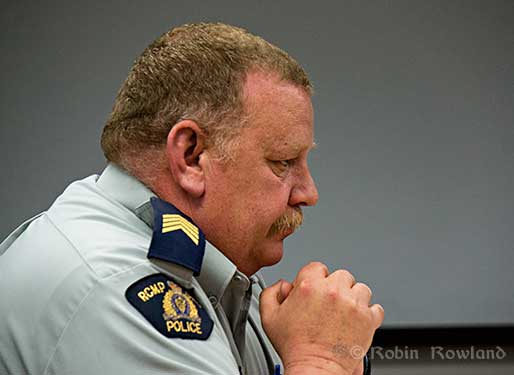 Answering a question from Councillor Phil Germuth,  Staff Sergeant Phil Harrison, Kitimat detachment commander told Council that RCMP had met with Kitimat deputy chief administrative officer Warren Waycheshen  to discuss  the groups they were aware  of that might be protesting in Kitimat.
"It's actually hard to plan for some of them, we don't know how large they're going to be,  "Harrison told Councl,  "There are all sorts of different factors that go into coming up with an operational plan for any kind of a demonstration
"We've talked about where we may be able to hold demonstrations, how we are going to do accommodate the people, what are we going to do for sanitation,
what we are going to do for garbage collection. all that kind of stuff," the staff sergeant said.
"Until we get more information regarding what kind of demonstration it's going to be, it's hard to plan for. We do encourage any leaders of any organization that's going to be demonstrating to come and chat with us.
:Demonstrations are fully legal in Canada. We have no problems with those.  Our concern is when it comes to the safety of the public and so, therefore, if there isanything we can do to help to mitigate any kind of problems that might arise if the safety of the public, we'd like to know that before hand."
Waycheshen said it was up to Council to set policy but noted that the staff has been working on long term plans, saying. 'We do a lot of pre-planning and then just wait to see if it comes or not."
Waycheshen  said that while the RCMP and District staff have  studied the more obvious locations,   "as the RCMP point out, there are certain times when people won't congregate where you want them to, so we have to work around their locations.'
"We've looked at the need for water, porta-potties, meals and stuff," Waycheshen said. "It's always tough until you know the numbers When they come in, are they going to be self sufficient or not?
"We've talked to our suppliers to make them aware that this could be happening at short notice, so they're aware of it,
"We've done as much as we can And almost like the emergency plan, we've talked to the emergency planning group for the District. There might be a point where we  activate the EOC [Emergency Operations Centre] plan, not to treat it as an emergency but to give you a lot more flexibility to react in a quick way."
"Some of the suppliers say we should be able to get you this and that,  but we will have to know at the time.
"It's really contingent on when they're coming in. Our purchasing department has been really good about contacting people, this is the potential of what we could
have."
It all starts on Tuesday when Premier Clark is scheduled to arrive at the old hospital site to announce the agreement with the Haisla.
Douglas Channel Watch says it plans to rally at the "Downtown Kitimat" sign across the street from the hospital site at 10:45.   Kitimat's teachers who will officially be on strike on Tuesday, plan their own rally at Centennial Park at the same time.
The Harper government will announce its decision on the Northern Gateway shortly after 4 p.m. Eastern Time,  after the market close in the east, 1 p.m, Pacific  Time.
Shortly after the government announcement, Douglas Channel Watch will then hold a second rally in Centennial Park.