Chevron has applied to the BC Ministry of the Environment for a permit to discharge storm water from the liquified natural gas construction site at Bish Cove and along the shore of Douglas Channel.
The construction site is currently operating on a Waste Water Discharge Approval that expires on Oct. 31.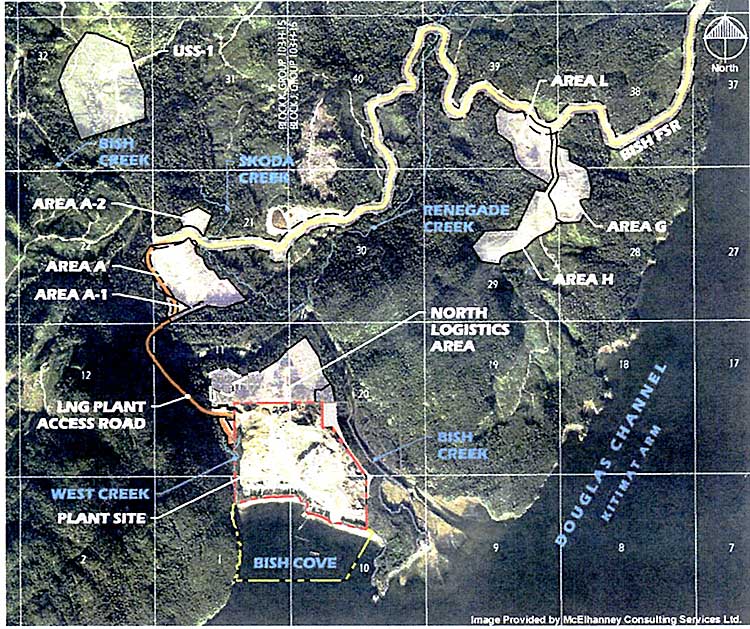 The application sets new objectives that "will be protective of the receiving environment." Various construction areas will discharge storm water (likely due to clearing of the bush cover) from areas at Bish Cove itself and the Bish Creek watershed "including the following watercourses and associated tributaries: Bish Creek, West Creek, Skoda Creek and Renegade Creek."
The application says that the "maximum rate of effluent discharged from this project and support areas will vary based upon seasons and weather." Areas and amounts of water may change as the construction proceeds. "The characteristics of the stormwater runoff will be water produced from precipitation, including snowmelt that contains suspended sediment from earthworks and construction." The application adds, "The types of treatment to be applied to the discharges are: erosion prevention and sedimentation control management practices and devices which may include sedimentation ponds, oil water separators, pH adjustment, flocculent  addition and sand filtration.
The public and concerned individuals or groups can provide "relevant information" to the Regional Manager, Environmental Protection, #325-1011 Fourth Ave, Prince George BC V2L 3H9 until September 20, 2014 or call Marc Douglas at 844-800-0900.