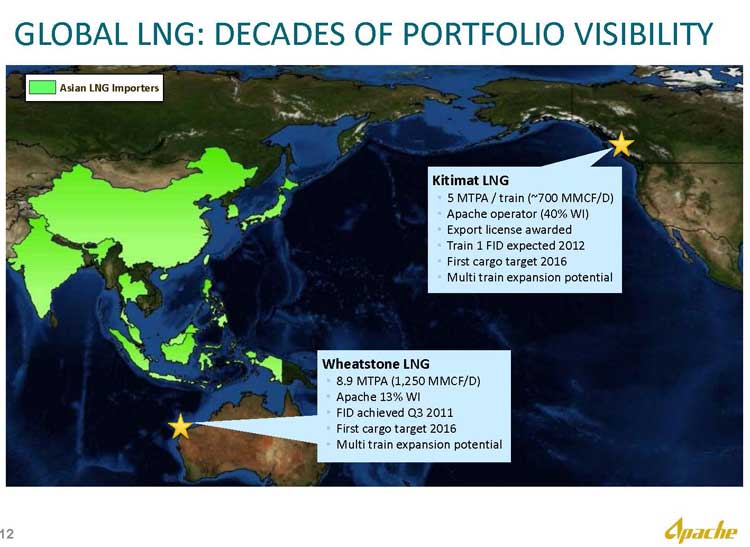 Apache said Tuesday, May 22, 2012, that it expects the first LNG cargo leave the Kitimat terminal for Asia sometime in 2016, with possible further expansion in the future.
Patrick Cassidy, director of Apache's Investor relations division, was making a presentation to the UBS Global Oil and Gas Conference in Houston, Texas, on the company's future plans.
One slide in the Power Point presentation summed up Apache's Pacific strategy, both at Kitimat and its chief rival, the Wheatstone project in Western Australia.
Apache said the final investment decision for the first train or phase the Kitimat LNG is still expected later this year. Previous reports have indicated the decision will likely come in the fourth quarter as Apache and its partners line up customers in Asia.
Originally the KM LNG partners said the project would start up in 2015, but delays, including the unusually harsh winter in Kitimat, which slowed construction at the Bish Cove site,  and the search for customers for the natural gas, has pushed the date back to 2016.
Apache  Corp. owns 40 per cent the KM LNG partnership,  Canada'sEncana Corp. and EOG Resources each  own 30 per cent each.
Two other projects are planned for Kitimat, the smaller BC LNG co-owned by Houston-based investors and the Haisla Nation and a larger project announced last week by Royal Dutch Shell.
LINK: Apache presentation to UBS Conference