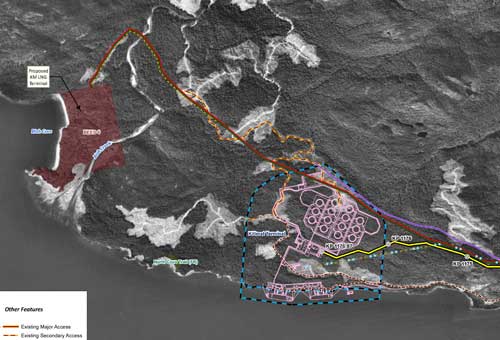 Detail of a map filed by Enbridge Northern Gateway with the Joint Review Panel showing the foot print of the proposed bitumen terminal and the LNG terminal. The proposed BC LNG terminal would add a third terminal at North Cove (green text on this map)
A recent filing by the Enbridge Northern Gateway project with the Joint Review Panel shows just what Kitimat harbour and the service area will look like if the liquified natural gas projects go ahead and so does the Northern Gateway.
Three maps show areas where the two pipelines follow the same routes and where they diverge beginning just east of the service centre. (Larger versions of maps pop up if you click your mouse)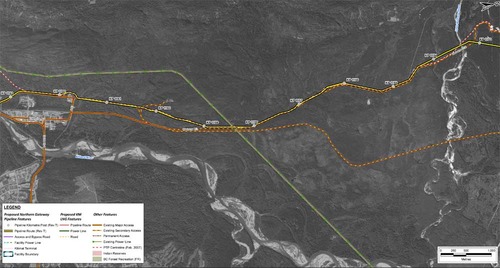 In this map, the Enbridge pipeline is yellow with a black outline, the LNG pipeline is red. Where there are yellow and red alternating squares, that means the two pipelines will follow the same route. Solid orange lines are paved roads,broken orange lines are unpaved roads and the green lines are power lines.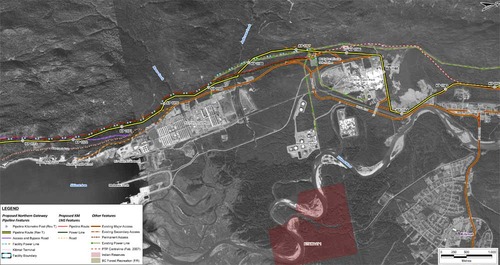 Just before the pipelines reach the service centre, they diverge, the yellow Enbridge pipeline following the road route around the periphery of the service centre, while the gas pipeline at first follows the route of the Pacific Trails Pipeline and then snakes off at the hydro substation. The two pipelines then run parallel just off Haisla Boulevard across from the Rio Tinto Alcan plant. The green line beside the two pipelines marks a hydro line that would be build to power the facilities.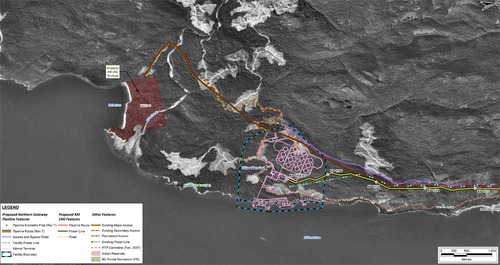 The final map shows the Enbridge pipeline coming into the bitumen/condensate terminal with its large footprint, while the natural gas pipeline continues, crosses Bish Creek and then enters the Bish Cove KM LNG terminal. If the BC LNG terminal is built at North Cove, just west of the proposed Enbridge Northern Gateway facility, a branch pipeline would go from the main gas pipeline down to that facility. (There were indications at the June NEB hearings that negotiations were under way on "sharing" gas "molecules" between the two groups).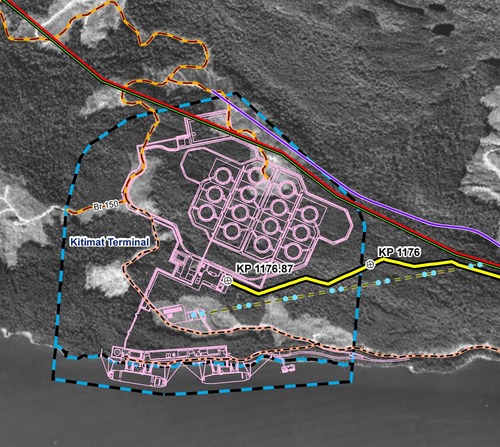 Footprint of the Enbridge Northern Gateway plant.
Enbridge photo maps showing Northern Gateway and LNG routes in pdf format