Energy
Pacific Northern Gas, the main supplier of natural gas to much of northern British Columbia, has agreed to be taken over by the much bigger Calgary-based AltaGas Ltd. in a deal worth $230 million or $36.75 a share.
The deal gives AltaGas a stake in the natural gas export race, since Pacific Northern's pipelines link Alberta and British Columbia gas fields to Kitimat, where there are at least three projects underway to export liquified natural gas to Asian markets.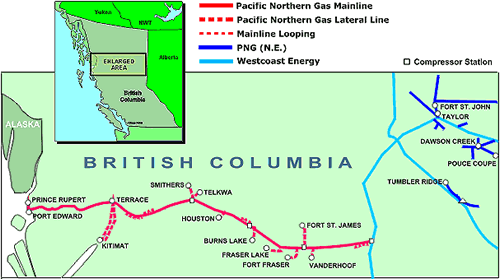 Pacific Northern Gas distribution network. (PNG)

In a news release, Pacific Northern Gas said that company executives began considering the future after PNG sold their interest in Pacific Trails Pipeline last February to the partners in the Kitimat LNG project.
Roy Dyce, president and CEO of PNG said in the news release:
This transaction is in the
best interests of our shareholders, customers, employees and other
stakeholders. Among the reasons we recommend the proposed transaction to
our shareholders are the size of the premium, the immediate liquidity
and the certainly of value the cash consideration offers, and the fact
that we believe AltaGas' offer fairly values the $20 million contingent
payment that PNG will receive if the Kitimat liquefied natural gas
project proceeds.
Pacific Northern already had a small partnership with AltaGas to build a gas pipeline from a Montney gas plant to
British Columbia.

In its news release, AltaGas said "We are pleased to welcome all PNG employees to our team. AltaGas has a
long history of operating natural gas utilities across Canada and we
will continue to deliver safe and reliable service to our customers."
AltaGas says the transaction will result in a 50 per cent increase in AltaGas' holdings of regulated natural gas to consumers and businesses, now worth over $500 million and increase customers from 75,000 to more than 110,000.
The company is looking to increased natural gas exploration taking place in areas northeastern BC in the Montney and Horn River gas fields. AltaGas also expects to profit from "increased industrial activity in northern BC are expected to result in rate base and customer growth as areas such as Dawson Creek and Fort St. John."
The new company would align the PNG system with AltaGas assets such as the Bear Mountain Wind Park and the Younger facility, BC's only natural gas liquids extraction plant.
AltaGas adds. "Growing North American natural gas supply and continued attractive natural gas prices in Asian markets continue to support growth of an LNG industry in western Canada. PNG's Western system is well positioned to capitalize on the growing demand for additional pipeline capacity along the Summit Lake to Kitimat/Prince Rupert corridor."
AltaGas assets include small utilities, a gas business, and power. AltaGas describes itself this way:
AltaGas is an energy infrastructure business with a focus on natural
gas, power and regulated utilities. With the physical and economic links
along the energy value chain together with its efficient, reliable and
profitable assets, market knowledge and financial discipline, AltaGas
has provided strong, stable and predictable returns to its investors.
AltaGas focuses on maximizing the profitability of its assets, providing
services that are complementary to its existing businesses, and
growing through the acquisition and development of energy
infrastructure.
Consumers in northern British Columbia will be wondering, despite any long term spinoffs from liquified natural gas projects, what the deal will mean for their natural gas bills. Despite the statement by Dyce, "We look forward to joining with AltaGas in continuing our mutual history of delivering safe, reliable service to our customers" and Cornhill's similar statement, "AltaGas has a long history of operating natural gas utilities across Canada and we will continue to deliver safe and reliable service to our customers," it is highly likely that consumers in BC will be skeptical of the deal because up until now, while the price of natural gas has been falling, Pacific Northern Gas continued to charge very high (some would say extortionate) transportation and other fees to consumers.