Updates Jan. 15 with District changing voting venue to Tamitik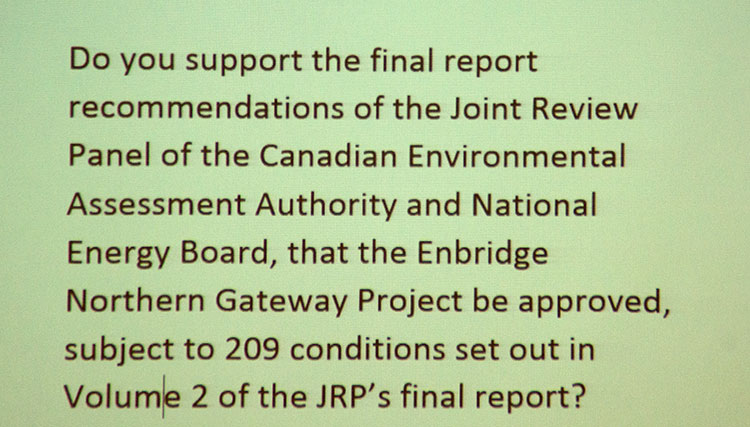 District of Kitimat Council voted Monday night to hold the plebiscite on the Northern Gateway project on Saturday April 12, with advance polls April 2 and April 9. Voting will be held at the Tamitik Jubilee Sports Complex and Mt. Elizabeth Secondary School with special voting at Kiwanis Village, Kitimat General Hospital, Mountain View Multi-care and Delta King Place.
The ballot question, as moved by Councillor Mario Feldhoff is:
Do you support the final report recommendations of the Joint Review Panel of the Canadian Environmental Assessment Authority (sic) and the National Energy Board, that the Enbridge Northern Gateway project be approved subject to 209 conditions set out in Volume 2 of the JRP's final report?
Eligible residents will have the choice of voting yes, no or undecided.
Whether or not there will be other questions on the ballot was deferred to staff to consider issues such as the refinery proposed by David Black and possible marine components. The staff report will be presented at the next regular meeting of council on January 20.
Councillor Rob Goffinet said the question was confusing, calling it "The Quebec referendum  on steroids."  Councillor Phil Germuth also argued for a simpler question, while Feldhoff, who proposed the question, maintained it was clear.  The remainder of council were in favour of the question and some councillors also said the time between now and April would give Kitimat residents time to read and digest the almost 500 pages of the Joint Review Report.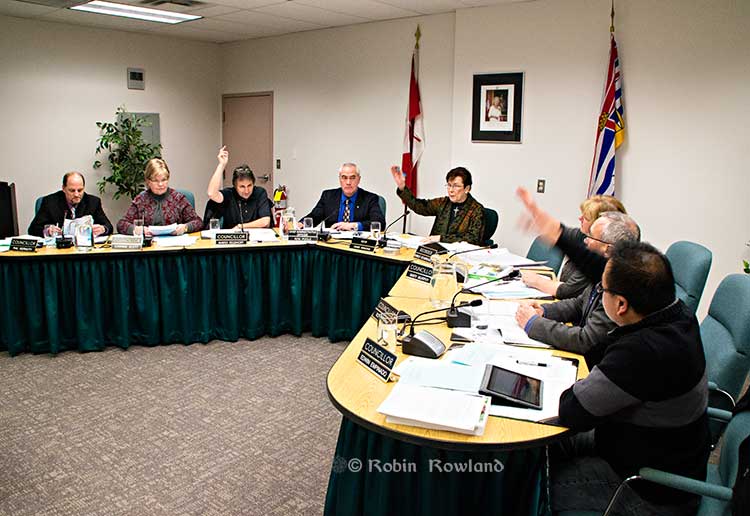 Councillors Feldhoff, Mary Murphy, Edwin Empinado and Mayor Joanne Monaghan voted in favour of the wording.  Germuth, Goffinet and Corrine Scott voted against.
Even as council was breaking up after the session, the audience were pointing out areas where there could be confusion over the question.  What if someone is in favour of some, but not all the Joint Review conditions; what if someone approves the Joint Review Report but opposes the project in principle; does the question address the Northern Gateway project itself, or is it all about the Joint Review Report?
The public in Kitimat now has a week to react to the plebiscite question before the final ballot is decided at the regular meeting on January 20, when additional questions may be added.  It is highly likely that given the question as it stands, there will be fierce community reaction to the question in the coming days.
Update
On January 15,Warren Waycheshen, Kitimat, Deputy Chief Administrative Officer updated the media on the voting locations saying:
We weren't able to secure Riverlodge for all three days so the location for the April 2, 9 and 12 voting opportunities will now all be at the Tamitik Jubilee Sports Complex (400 City Centre). The April 12 location at Mt. Elizabeth Secondary School and the special voting locations are unchanged.