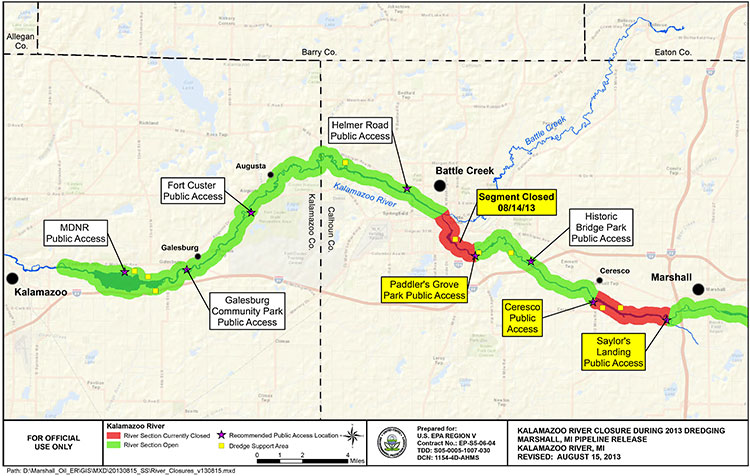 Enbridge has missed the US Environmental Protection Agency's deadline to clean up parts of the Marshall, Michigan bitumen spill by December 31, 2013.
Local television news, WOOD-TV says the EPA is now considering "enforcement options."
The EPA had already granted Enbridge a 10 month extension that the company requested in March, 2013, setting the new December deadline.
In November, Enbridge requested a second extension. The EPA denied that request.
From the EPA letter it appears that, as in previous years, Enbridge is trying to avoid continuing clean up work into the winter. The EPA rejects that position, telling Enbridge it shouldn't wait until the spring run off could spread the sunken bitumen.
The EPA says that beginning in March, 2013, "Enbridge has successfully removed oil and sediment from two of the three major impoundment areas identified in the order and from several smaller sediment trap locations."
The area that Enbridge failed to clean up is known as the Morrow Lake and Morrow Lake Delta. The cleanup in that area was delayed when the Comstock Township planning commission unanimously  denied Enbridge a permit for "dredge pad" after fierce public opposition
The letter to Enbridge, from Jeffrey Kimble, Federal On-Scene Coordinator denying the extension is another scathing indictment of Enbridge's attitude toward the public and the cleanup, citing Enbridge failing to prepare "adequate contingency plans," by failing to recognize the "serious opposition" the dredging plans.
Although the EPA had told Enbridge to consider alternative plans—and Enbridge claimed it did that—the EPA found the Enbridge's own logs showed the company didn't start considering alternatives until it was obvious that Comstock Township would reject their dredging plans.
The EPA letter also reveals that once again Enbridge is reluctant to do further cleanup work during the Michigan winter. The EPA rejects that stance, saying that "Removal of oiled sediments prior to the spring thaw will lessen the potential oiled sediment transport in the spring to Morrow Lake via increased river velocities from rain and ice melt."
Although we recognize that the work required by the Order is unlikely to be completed by December 31, 2013, U.S. EPA believes that had Enbridge taken appropriate steps earlier as requested, it would not require an extension now. In particular, U.S. EPA believes that Enbridge has continuously failed to prepare adequate contingency plans for a project of this nature. For example, U.S. EPA acknowledges that failure to obtain a site plan approval for use of the CCP property for a dredge pad was a setback in the timely completion of the work in the Delta.

However, Enbridge failed to prepare any contingency plans recognizing the possibility of such an occurrence. Enbridge has known since at least the middle of July 2013 that there was serious opposition to its proposed use of the CCP property. When it became clear in August 2013 that opposition to the site use might delay the project, U.S. EPA directed Enbridge to "conduct a more detailed review of your options in short order."

Although your letter claims that Enbridge "has considered such alternatives," your logs indicate that Enbridge did not hold initial discussions with the majority of these property owners until long after the final decision to abandon plans for use of the CCP property. These contact logs do not demonstrate that Enbridge fully explored and reviewed alternative options in a timely manner so as to avoid delay in completion of the work. Although Enbridge claims that use of identified alternative properties would be denied by Comstock Township, Enbridge did not present any site plans to the Township for approval (other than use of the county park for staging of frac tanks). To the extent that any of Enbridge's contingency plans include the use of land for dredge pads, U.S. EPA believes that Enbridge should begin multiple submissions for property use until one is accepted….

Enbridge claims that it cannot install winter containment in the Delta to prevent the potential migration of sediments to the lake. To support that claim, Enbridge has attached a letter from STS directing Enbridge to remove anchors and associated soft containment during winter monthsas these structures could damage STS's turbines. However, none of the correspondence provided by Enbridge discusses the use of more secure containment methods, such as metal sheet piling, which may not pose the same risks as soft containment structures. Enbridge should consider using sheet piling to construct cells which would both allow winter work and contain the sediment during that work. Enbridge should therefore try to obtain access from STS for this specific work, and for other appropriate work, for the winter timeframe. Use of sheet pile cells would allow continued operations during the winter, especially in the southern zone of the Delta outside of the main river channel. Removal of oiled sediments prior to the spring thaw will lessen the potential oiled sediment transport in the spring to Morrow Lake via increased river
velocities from rain and ice melt.

Finally, U.S. EPA is unwilling to allow Enbridge to wait until after the likely spring high
velocity river flush to reinstall the E-4 containment structures. U.S. EPA has reviewed Enbridge's modeling, which Enbridge claims supports its requested timeline, and has found it incomplete. The model has not incorporated, and does not match, field observation of flow velocities and water levels and their potential to impact upstream critical structures if containment is in place. Moreover, U.S. EPA completely disagrees with Enbridge's assertion that there is no evidence of migration of submerged oil during high flow events. The results of three years of poling and sheen tracking demonstrate that Line 6B oil is mobile during periods of
high flow. Now that Enbridge has a five year permit from MDEQ for the E-4 containment system, U.S. EPA reiterates that this containment must be in place immediately upon thawconditions in the spring….

Although Enbridge's proposed two phase approach may have components that can be incorporated into a final plan, it should not be considered the approved way forward. U.S. EPA believes that pausing the work cycle until new poling can be done in June or July of 2014 could again result in a wasted construction season in the Delta. Enbridge should consider and utilize a combination of techniques in the plan. For example, several dredge pad sites have been identified by Enbridge. Enbridge should obtain approval for one of these sites, or a combination of smaller sites, so as to support hydraulic dredging in conjunction with the current approved
approach and any potential dry excavation techniques. Enbridge should also consider other winter work techniques, such as cell build out and dewatering in the Delta via sheet piling.

As always, U.S. EPA will continue to work with Enbridge to develop adequate plans and complete the work required by the Order. However, nothing in this letter excuses any noncompliance with the Order nor does it serve as the granting of any extension to any deadline in the Order. U.S. EPA reserves all its rights to pursue an enforcement action for any noncompliance with the Order.
The EPA letter also calls into question the ruling of the Joint Review Panel on the Enbridge Northern Gateway. The JRP accepts, without question, Enbridge's assurances that the company has changed its attitude and policies since the long delay in 2010 in detecting the pipeline rupture in Marshall, Michigan.
The JRP, on the other hand, accepts, without question, Enbridge's assurances that it has expertise in winter oil recovery from a pipeline spill.
Parties questioned Northern Gateway about locating and recovering oil under ice. Northern Gateway said that Enbridge conducts emergency exercises in winter and that Northern Gateway would learn from those experiences.
Northern Gateway outlined a number of oil detection techniques including visual assessment (at ice cracks and along the banks), drills, probes, aircraft, sniffer dogs, and trajectory modelling. It said that, once located, oil would be recovered by cutting slots into the ice and using booms, skimmers, and pump systems to capture oil travelling under the ice surface.

The company said that oil stranded under ice or along banks would be recovered as the ice started to melt and break up. It discussed examples of winter oil recovery operations during Enbridge's Marshall, Michigan incident, and said that operational recovery decisions would be made by the Unified Command according to the circumstances.

Northern Gateway said that equipment caches would be pre-positioned at strategic locations, such as the west portal of the Hoult tunnel. It said that decisions regarding the location or use of pre-positioned equipment caches would be made during detailed design and planning, based on a number of considerations including, but not limited to, probability of a spill, access, site security,
environmental sensitivities, and potential for oil recovery at the response site.

(vol 2 page 153)
In its ruling, the Joint Review Panel said
The Panel finds that Northern Gateway's extensive evidence regarding oil spill modelling, prevention, planning, and response was adequately tested during the proceeding, and was credible and sufficient for this stage in the regulatory process.
Parties such as the Province of British Columbia, Gitxaala Nation, Haisla Nation, and Coalition argued that Northern Gateway had not provided enough information to inform the Panel about proposed emergency preparedness and response planning. The Panel does not share this view.

Northern Gateway and other parties have provided sufficient information to inform the Panel's views and requirements regarding malfunctions, accidents, and emergency preparedness and response planning at this stage of the regulatory process.

Many parties said that Northern Gateway had not demonstrated that its spill response would be "effective." Various parties had differing views as to what an effective spill response would entail.

The Panel is of the view that an effective response would include stopping or containing the source of the spill, reducing harm to the natural and socio-economic environment to the greatest extent possible through timely response actions, and appropriate follow-up and monitoring and long-term cleanup. Based on the evidence, in the Panel's view, adequate preparation and planning can lead to an effective response, but the ultimate success of the response would not be fully known
until the time of the spill event due to the many factors which could inhibit the effectiveness of the response. The Panel finds that Northern Gateway is being proactive in its planning and preparation for effective spill response….

The Panel is of the view that an effective response does not guarantee recovery of all spilled oil, and that that no such guarantee could be provided, particularly in the event of a large terrestrial, freshwater, or marine spill.

The oil spill preparedness and response commitments made by Northern Gateway cannot ensure recovery of the majority of oil from a large spill. Recovery of the majority of spilled oil may be possible under some conditions, but experience indicates that oil recovery may be very low due to factors such as weather conditions, difficult access, and sub-optimal response time, particularly for large marine spills. …

To verify compliance with Northern Gateway's commitments regarding emergency preparedness and response, and to demonstrate that Northern Gateway has developed appropriate site-specific emergency preparedness and response measures, the Panel requires Northern Gateway to demonstrate
that it is able to appropriately respond to an emergency for each 10-kilometre-long segment of the pipeline.

The Panel notes the concerns of intervenors regarding Northern Gateway's ability to respond efficiently and effectively to incidents in remote areas, and its plan to consider this during detailed design and planning. The Panel finds that Northern Gateway's commitment to respond immediately to all spills and to incorporate response time targets within its spill response planning is sufficient to
address these concerns. Northern Gateway said that its emergency response plans would incorporate a target of 6 to 12 hours for internal resources to arrive at the site of a spill. It also said that it would target a response time of 2 to 4 hours at certain river control points.

The Panel agrees with Northern Gateway and several intervenors that access to remote areas for emergency response and severe environmental conditions pose substantial challenges. The Panel notes that the company has committed to develop detailed access management plans and to evaluate contingencies where timely ground or air access is not available due to weather, snow, or other logistic
or safety issues.
Despite the EPA letter (which admittedly was released long after the JRP evidentiary deadline) that shows that Enbridge did not consult the people of Comstock Township, Michigan, the JRP says
The Panel accepts Northern Gateway's commitment to consult with communities, Aboriginal groups, and regulatory authorities. The objective of this consultation is to refine its emergency preparedness and response procedures by gaining local knowledge of the challenges that would be present in different locations at different times of the year
(Vol 2 p 165-167)