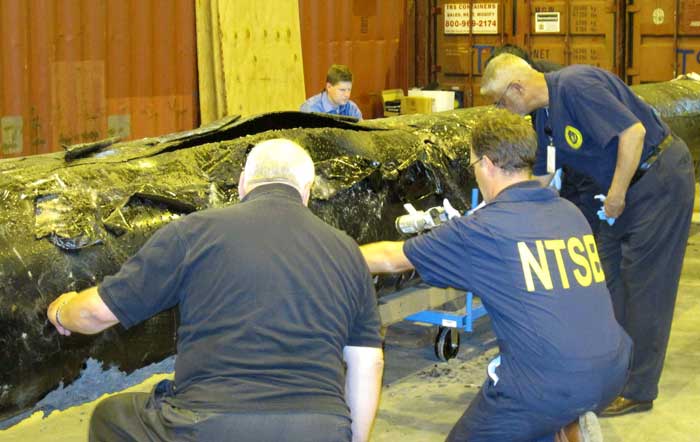 The United States National Transportation Safety Board today released more than 5,000 pages relating to its investigation of the 2010 of the Marshall, Michigan, Enbridge pipeline rupture and oil spill.
The NTSB release says it is adding the documents to the "public docket" on the case.
About 11:17 a.m. EDT on July 26, 2010, Enbridge Energy Partners was notified of a leak on a 30-inch diameter crude oil pipeline (Line 6B) in Marshall, Michigan. The pipeline had ruptured 17 hours earlier and spilled about a million gallons of crude oil into the immediate area resulting in extensive environmental damage to Talmadge Creek and the Kalamazoo River.

Fifty-eight photographs and 170 documents totaling more than 5000 pages are in the docket. The information being released is factual in nature and does not provide any analysis.

Additional material may be added to the docket as it becomes available. Analysis of the accident, along with conclusions and its probable cause, will be determined at a later date.

This is a document release only; no interviews will be conducted.
Documents are available at this link
More than 800,000 gallons of heavy bitumen crude spilled from the pipeine near Marshall in Calhoun County, Michigan. NTSB spokesman Peter Knudson said Monday the NTSB expects to reach a conclusion on the spill sometime this summer.
On May 10, Enbridge announced it would spend $1.6 billion to upgrade and replace portions of the pipeline through Michigan and Indiana. The broken pipeline, however, would be decontaminated and "abandoned in place."