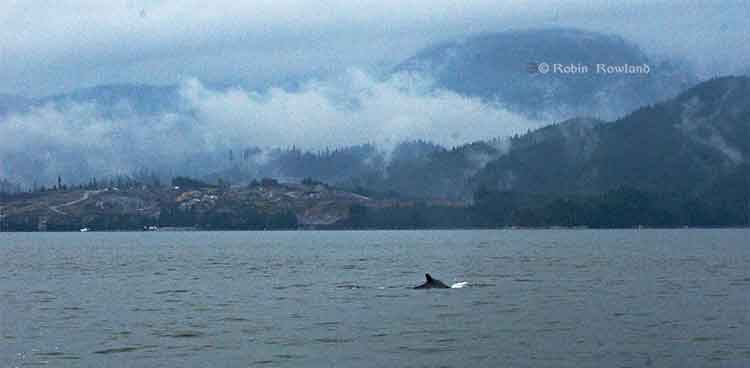 Updated with comments from Gitga'at First Nation, Nathan Cullen and Shell Canada.
Gil Island is a "critical habitat" for the world's humpback whales, whose numbers are increasing in Douglas Channel, Wright Sound, Estevan Sound and Camano Sound and nearby waters, according to a study released Wednesday, September 11, 2013. The study also goes on to warn that potential tanker traffic through the "geographic bottleneck" on Douglas Channel to and from Kitimat could threaten that crucial "pit stop" for the humpback whales.
The study, "Abundance and Survival of Pacific Humpback Whales in a Proposed Critical Habitat Area," by Erin Ashe, of the University of St. Andrews, in Scotland, Janie Wray of Oceans Initiative on Pearse Island, Christopher Picard of the North Coast Caetacian Society in Hartley Bay and Rob Williams of the Gitga'at Nation Lands and Marine Resources Deptartment, is published in the jourrnal PLOS One.
The research team estimated the abundance of Pacific humpback whales by using photo-identification surveillance of adult humpbacks. They found that the number of humpback whales in this region increased each year, and doubled from 2004 to 2011, resulting in a total of 137 identifiable whales in 2011. The survey was conducted year-round. Abundance was estimated only during the summer months of July to September, when the migrating whale population is largest.
The survey focused on summer feeding regions in the northwestern BC coastal fjords that serve as a "pit stop" for whales between migrations. Migrating whales travel to the BC coast from calving grounds as far away as Mexico, Hawaii or Japan. After several months without feeding, the humpbacks arrive in BC, and, the study says, show "strong site fidelity to local feeding grounds" around the entrance to Douglas Channel.
The authors estimated that "survivorship," the average probability of an adult whale surviving from one year to the next on the northwest coast of British Columbia is among the highest reported anywhere for the species. During "this critical refueling stage in these waters, the whales are more vulnerable to environmental stressors, such as those potentially created by increasing tourism and industrial development in the region."
The study also says that study area has also been identified as candidate critical habitat for northern resident killer whales and notes the region "has been recolonized by fin whales in recent years." (With details on the fin whales to come in future studies)
The study estimates there were once about 15,000 humpback whales in the North Pacific when whalers began hunting the animals. That number was down to 1,400 when whale hunting was stopped in Canada in 1966. "It is therefore good news that the segment of the population using our study area is growing and adult survival is near the limit that one would expect for this species. That said, although the population is recovering, there is no evidence that it has yet fully recovered to pre-exploitation levels in BC and we do not wish to become complacent." the study says.
It goes on to say:
Humpback whales may be facing increasing threats in at least one of their proposed critical habitats in BC. Numerous port facility expansions and new terminal proposals, including numerous crude oil and liquefied natural gas (LNG) export proposals, could substantially increase deep-sea shipping traffic through BC's north and central coast waters. Such developments could exacerbate oil spill, acoustic disturbance, and ship strike risks to humpbacks. In particular, the Gil Island proposed critical habitat area where our work was conducted, spatially corresponds with all shipping routes leading to Kitimat, BC port facilities that are currently being considered by regulatory agencies for high-volume crude oil and LNG tanker traffic and other increased shipping activities.
The monitoring program showed that "a relatively large fraction of BC's humpback whales rely on the waters around Gil Island, given the small size of the study area."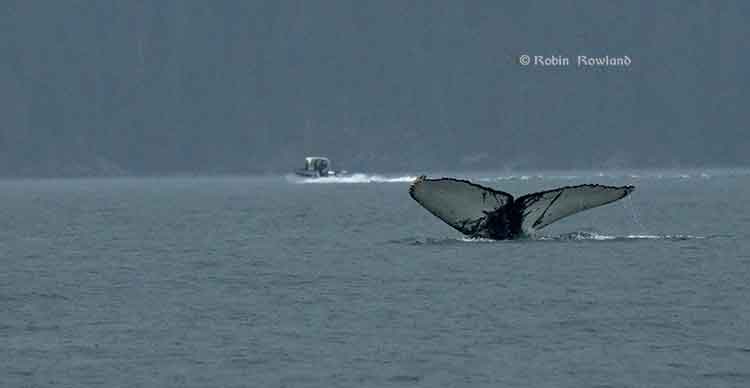 The study warns:
This high reliance on relatively small fractions of available habitat has important implications for conservation and management. It lends support to the proposal to designate the current study area as part of the population's critical habitat…

This also suggests that area-based management for cetaceans can effectively target small areas if these areas are chosen carefully. The corollary to this, though, is that a tendency for animals to be concentrated or aggregated in small areas lends them vulnerable to catastrophic events like oil spills and ship strikes. Critical habitats like the Gil Island waters are therefore a mixed blessing when high densities of whales are found in geographic bottlenecks that also funnel and concentrate shipping traffic. Anthropogenic threats to this must be evaluated not only in terms of the proportion of available habitat that this area represents, but also in terms of its critical importance to large numbers of whales for critical life-history processes. The risk and ecological consequences of an oil spill in this region would increase substantially if proposals were approved to ship large volumes of oil and LNG traffic through the Gil Island waters. Studies in Pacific waters similar to our study area suggest that oil spills can have severe and chronic impacts to cetacean populations and it is uncertain whether affected populations can recover from such perturbations.
One reason for the study is that while the humpback is considered an endangered species in the United States, in Canada it is listed as "threatened" under Canada's Species at Risk Act and the increasing numbers could mean that the humpback is downgraded to "special concern."
The study was based on what is called "community based science," a cost-effective partnership between scientists, the Gitga'at Nation and other First Nations, NGOs and the Department of Fisheries and Oceans.
As part of its Pacific humpback whale recovery strategy, DFO has proposed four areas as candidate critical habitat. One criterion for designating critical habitats within northern BC coast feeding grounds is that inlets are used for specialized ''bubble-net'' feeding behaviour (where the humpbacks create a fishing net of bubbles to catch their prey).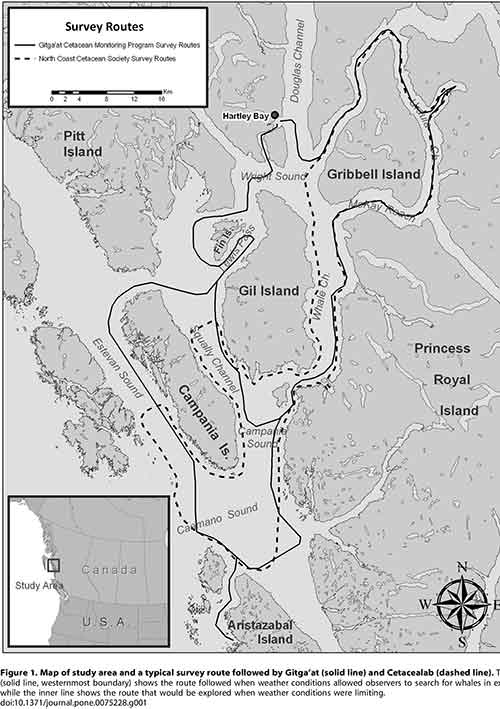 At the start of the study, the team had noted that "mainland inlets have been somewhat under-represented in habitat studies" and so they began working on the photo-identification of the humpbacks, using two research groups, the North Coast Cetacean Society and the Gitga'at Lands and Marine Resources Department. Surveys were conducted as weather permitted throughout the year from April to November (with occasional trips in February, March and December), from 2004 to 2011.
The aim of the study was to "collect as many high-quality photographs of individually recognizable humpback whales as possible within the study area [referred to in the study  as 'Gil Island waters''] from Estevan Sound in the west to Ursula Channel in the east. One 27 foot and one 18 foot boat were used to conduct the surveys. A total of 374 photo- identification surveys conducted over 47 months resulted in a catalogue of 177 high-quality, unique identifications of individual humpback whales.
Information also came from "an informal sightings network including local fishermen and tourism operators who reported humpback and killer whale sightings over VHF radio;" hydrophones monitored for vocalizing humpback whales; and visual monitoring from the land-based Cetacealab facility on the south end of Gil Island.
When a humpback was sighted, they were identified by the fingerprint like tail flukes and the numbers cataloged.
The study was funded by grants to Cetacealab and Gitga'at First Nation from Julie Walters and Sam Rose, and from Fisheries and Oceans Canada (Cetacean Research Program, Species at Risk Program). There was also support from King Pacific Lodge.
–
Updates
In a news release, the Gitga'at First Nation said:
"The importance of our territorial waters for humpback and other species of whales, should give pause to those who would propose tanker routes through the Douglas Channel," said Arnold Clifton, Chief Councillor of the Gitga'at First Nation. "The increase in whales in our territory coincides with low shipping traffic, however current proposals would increase shipping traffic to unprecedented levels. We remain resolute in our determination to protect whales and the natural heritage of our territory from tankers and other developments that would put them at risk."
"Our study shows that while still vulnerable, humpback whales are recovering, and this area plays an important role in supporting their numbers," said lead author, Erin Ashe, a PhD candidate at the University of St. Andrews and a co-founder of Oceans Initiative. "Identifying and protecting critical habitat is one of the most effective ways to support endangered species recovery."
The waters around Gil Island are especially rich habitat for humpback whales, due to high abundance of their preferred foods, such as krill and herring and due to the remote nature of the coastal fjords. Humpbacks, which rely on acoustic communication, are sensitive to noise pollution from ship traffic.
"It is Cetacea Lab's contention that all levels of government must collaborate with the Gitga'at First Nation and others in protecting humpback whales from the risk of increased tanker traffic," said Janie Wray, whale researcher with Cetacea Lab. "This study represents the best available scientific information about the importance of this area to humpback whales. Over the course of our study, we have observed the population more than double, with mothers returning year after year with their calves, introducing the next generation of juvenile whales to the nutrient-rich feeding grounds of Douglas Channel to Caamano Sound."
In his biweekly conference call with Northwest BC reporters, Skeena Bulkley Valley MP Nathan Cullen said: "I don't get a sense from the way that the federal government has designed this [referring to Enbridge Northern Gateway] project, that on the marine side, any of these things are important to Mr. Harper. When you start to place down the most important values and certainly for British Columbians and Canadians, protecting a humpback feeding ground would seem like an important value in the Great Bear Rainforest, you start to see where the limits and the restrictions are on any idea of moving oil super tankers through such a narrow place. It's just another bit of evidence, a bit of science that says this is difficult, if not impossible, and Enbridge's project has made so many of those arguments more and more clear as we start to bring science to the table.
"It's so frustrating for people that evidence, our opinions and our values just don't seem to matter to the federal government. They already said yes to this thing years ago and damn the science, damn anything that comes their way. That's not going to work, not going to work for us and not going to work for the humpback whales."
A spokesperson for Shell's LNG Canada project, noting that the company officials had not yet read the study, said, "It's early days for the proposed project and the start of a thorough regulatory process. We welcome contributions and thoughts on important matters. We will look at this study. As with any project in Canada we work with local First Nations and local communities to minimize the impact of our activities."
Neither Enbridge Northern Gateway nor Apache, a partner in the KM LNG project, responded to a request for comment.