LNG Canada says the Kitimat liquified natural gas project "has been delayed and not cancelled" with a Final Investment Decision possible in the next 18 to 24 months, Director of External Relations Susannah Pierce  told a company sponsored community pizza party at Riverlodge on Tuesday October 18, 2016.
She paid tribute to the support for the project from Kitimat and the Haisla Nation, saying, "Thanks to you we were very close to have our shareholders take the Final Investment Decision in the New Year," but she then added, "You also know there were some things we couldn't control like the state of the marketplace."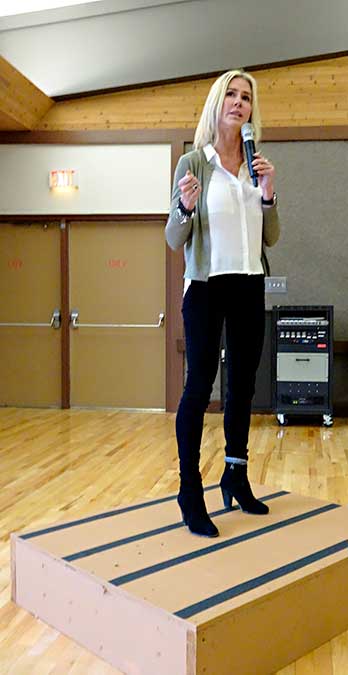 Pierce used the analogy of someone saving up to buy a car and believing that they have enough money in the bank and then the conditions change. "That is what happened to us," she said. "You still want the car, but you just have to wait a little longer."
Pierce said that the current program of site preparation will pause for the winter and holidays in mid-December.  After that "work will begin to wind down over the next few months and then we will preserve the site until we are ready to make the Final Investment Decision." She said LNG Canada is studying ways to make site preservation cost effective.
"We are doing everything we can to keep our pencils sharp and keep the community informed so that when the project is approved we are ready," she added.
She pointed out that LNG Canada has already built a fisheries habitat offset in preparation for  full development of the site.
LNG Canada and its partner shareholders are keeping a close eye on the developments of the natural gas market in Asia and Pierce said, "We do expect to be sending LNG to the Asian market in the next decade, so 2023 and beyond is what we're talking about."
She said that the Final Investment Decision when it comes will bring opportunities for Kitimat, the province and the whole country.
"Everyone in this room and everyone at LNG Canada is working to make this project real," Pierce said.
"For those who are staying with us, we're here, we're not going anywhere and we're going to be available to the community for an number of events. Let's make it happen. We do have a shot at making it real but it may not happen as soon as you'd like it."