The province of British Columbia has posted a request for bids for an extensive air shed study for Prince Rupert, a study that has much wider scope that the controversial Kitimat air shed study. The maximum cost for the study is set at $500,000.
a study of potential impacts to the environment and human health of air emissions from a range of existing and proposed industrial facilities in the Prince Rupert airshed, further referred to as Prince Rupert Airshed Study (PRAS) in North West British Columbia.
The "effects assessment" should include the "prediction of effects of existing and proposed air emissions of nitrogen dioxide, sulphur dioxide and fine particulate matter (at PM2.5, called dangerous by Wikipedia ) from "an existing BC Hydro gas fired turbine, a proposed oil refinery, and seven proposed LNG export terminals (Pacific Northwest LNG, Prince Rupert LNG, Aurora LNG, Woodside LNG, West Coast Canada LNG, Orca LNG, and Watson Island LNG)."
In addition to "stationary sources" of nitrogen dioxide, sulphur dioxide and particulate matter, "the impact assessment will also include rail and marine transportation sources of these contaminants in the study area."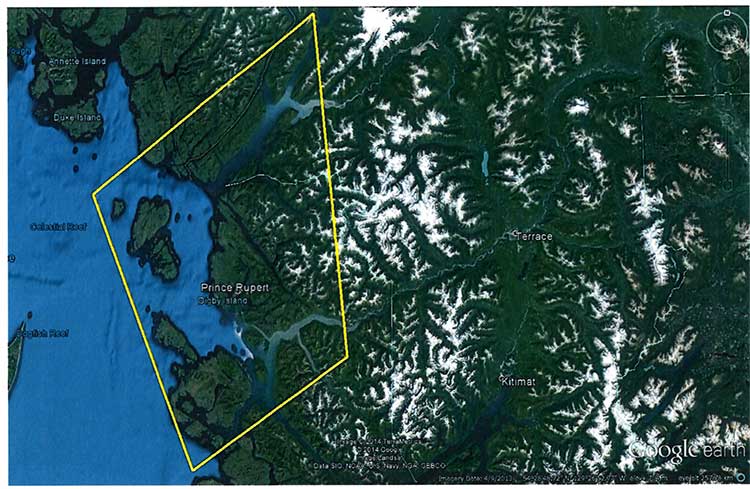 The request for proposal goes on to say:
The identified sources will be used for air dispersion modelling to determine how the contaminants in various aggregations (scenarios) will interact with the environment, including surface water, soils, vegetation and humans. Interactions of interest will include:

– water impact mechanisms related to acidification and eutrophication;
– soil impact mechanisms related to acidification and eutrophication; and
– vegetation and human health impact mechanisms related to direct exposure.

Water and soil impact predictions will be based on modelled estimates of critical loads for both media, given existing and predicted conditions in the airshed. Vegetation and human health impact predictions will be based on known thresholds of effects, given modelled existing and predicted conditions (contaminant concentrations) in the airshed.
Although the documents say that the Prince Rupert study will be based on the same parameters at the Kitimat air shed study, the Kitimat study only looked at sulphur dioxide and nitrogen dioxide, and did not include particulate matter.
Environmental groups also criticized the Kitimat air shed study for not including green house gases. The proposed Prince Rupert study also does not include green house gases.
A draft report is due by March 15, for review by the province and affected First Nations and subject to peer review. The District of Kitimat was not asked for comment on the study  on that air shed study, even though scholars as far away as Finland were asked to review it. It appears that Prince Rupert itself is also excluded from a chance to review the study. The final report is due on May 15.
The province has issued a permit to Rio Tinto Alcan to increase sulphur dioxide emissions from the Kitimat Modernization Project. The Environmental Appeal Board  will hold hearings in January 2015.  Elisabeth Stannus and Emily Toews, from Kitimat,  have appealed against  decision to allow RTA to increase sulphur dioxide emissions.