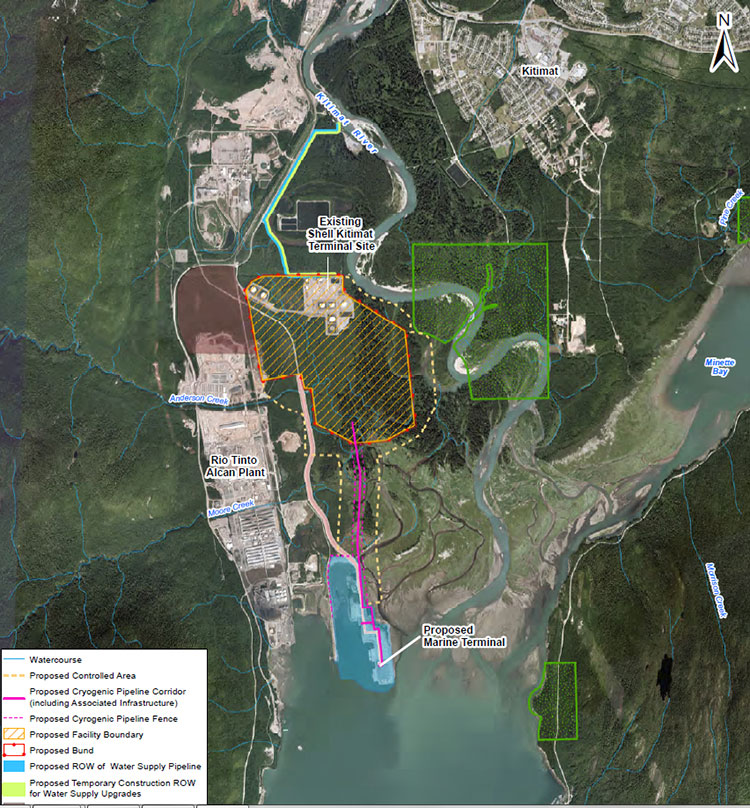 Rio Tinto has signed an option agreement with the LNG Canada project "to acquire or lease a wharf and associated land at its port facility" in Kitimat.
A news release from Rio Tinto's head office in London says: "The agreement provides LNG Canada with a staged series of options payable against project milestones. The financial arrangements are commercially confidential."
Since LNG Canada, a joint venture of Shell Canada Energy, Phoenix Energy Holdings Limited (an affiliate of Petro-China Investment (Hong Kong) Limited), Kogas Canada LNG Ltd. (an affiliate of Korea Gas Corporation) and Diamond LNG Canada Ltd. (an affiliate of Mitsubishi Corporation) has not yet made a Final Investment Decision on the project, the option will likely be triggered if that decision is made.  There is currently uncertainty about Royal Dutch Shell projects worldwide due to management restructuring at the parent company.
The news release quotes Sam Walsh, chief executive, Rio Tinto as saying: "This is an excellent example of how we can generate meaningful value from our existing assets by selling options on port facilities to LNG Canada enabling it to share one of the best deep water ports on the western seaboard of the country. This innovative approach will provide an expanded gateway for Canadian resources to worldwide markets which has the potential to benefit the communities and economy of British Columbia."
Andy Calitz, vice president, LNG Canada commented in the news release: "We are pleased to confirm the finalization of this agreement. We believe the LNG Canada project represents the best opportunity to bring the liquefied natural gas industry and its benefits to the people and
communities of British Columbia."
The deal between Rio Tinto, parent company of Rio Tinto Alcan, for the old Eurocan dock, has been in the works for some time.  When LNG Canada filed for its environmental assessment with the province of British Columbia a few weeks ago, the map showed the footprint of the project extended from the old Methanex plant site, where LNG Canada will be located through RTA lands on the Kitimat river estuary to the dock, long before Wednesday's deal was signed.