Fewer salmon; many more sardines.
That's one of the predictions from a new study from the University of British Columbia, looking at the future of the fishery on the coast.
The study concentrates on the First Nations fishery and warns that aboriginal people could face a catastrophic decline in the harvest of traditional species, especially salmon and herring roe on kelp over the next thirty years, a decline that will also have an equally devastating effect on commercial and recreational fishing.
The main cause of the decline is climate change and the warming of the coastal waters. The study projected "modest to severe declines in catch potential" for all current commercial fisheries along the coast.
The study says that for the First Nations the between $28 million to $36 million in revenue they got from fishing between 2001 and 2010 could fall by up to 90 per cent depending on how the climate changes.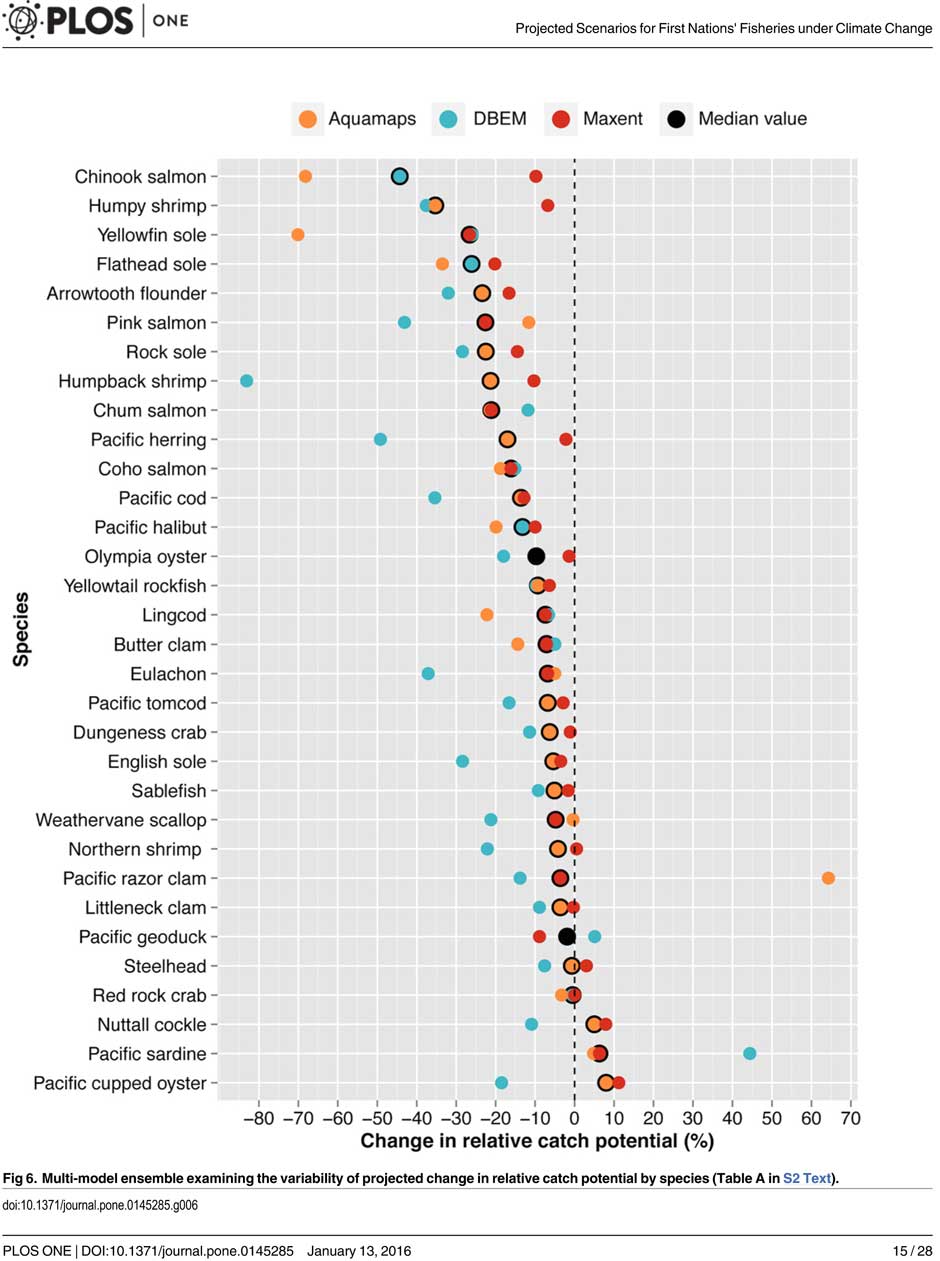 One scenario calls for a decline of up to 40 per cent in chinook and pink salmon.
If there is any good news, if you can call it that, the decline will be not as bad in northern coastal waters as it will be the warmer waters near the Lower Mainland and southern Vancouver Island. The range of some species, including salmon, herring, halibut and possibly oolichan will move to farther north along the BC Coast and into Alaskan waters.
That means in time the warming waters will also encourage an increase in other species, including sardines and some clams.
The changing oceans mean that "an increase in the relative abundance of warmer-water species was projected to lead to new or increased opportunities for commercial harvests by 2050."
The study is urging the First Nations and other stakeholders in the British Columbia fishery to start long term planning immediately to  anticipate changes in the coming decades.
The team of scientists led by Lauren Weatherdon, a graduate student at UBC, noted that while previous studies have looked at the impact of climate change on large-scale commercial fisheries, "few efforts have been made to quantitatively project impacts on small-scale subsistence and commercial fisheries that are economically, socially and culturally important to many coastal communities."
The study Projected Scenarios for Coastal First Nations' Fisheries Catch Potential under Climate Change: Management Challenges and Opportunities is published in the online journal PLOS One
The study was conducted in cooperation with the BC First Nations Fisheries Council and looked its seven coastal administrative regions "forming a sample of groups with diverse marine resources, geographical locations, territorial sizes, and treaty statuses."
Within those regions 16 First Nations participated in the study, some under their treaty councils, including the Council of the Haida Nation, the Tsimshian Nations Treaty Society (including the Gitga'at at Hartley Bay and the Kitselas and Kitsumkalum near Terrace) and the Maa-nulth First Nations. The Heiltsuk First Nation at Bella Bella participated as an independent group.
The FNFC's administrative regions intersect with five distinct ecological regions: the North Coast, comprising the Hecate Strait and Dixon Entrance; Haida Gwaii, which includes the waters surrounding the islands; the Central Coast, including Queen Charlotte Sound, Queen Charlotte Strait, and the southern tip of Hecate Strait; the Strait of Georgia; and the west coast of Vancouver Island (WCVI) .
The study says First Nations are likely to be exposed to different climate-related impacts on fisheries due to the differing ecological and biogeographical characteristics of these regions and to differing traditional and commercial harvests.
The study used a "dynamic bioclimate envelope" computer model to look at the changes to the distribution and relative abundances of the BC coastal species under two climate change scenarios, a high greenhouse gas model where society can't curb emissions and a low greenhouse gas emission scenarios, depending on how society is able to curb the increase.
The study looked at ocean properties—including sea surface temperature, sea bottom temperature, salinity, oxygen concentration, surface action, and net primary production—using data from the US National Ocean and Atmospheric Administrations'  climate-related earth system model.
Climate change will mean that current species on the BC coast will "shift polewards."
The study showed that by 2050, there could be declines in 87 of the 98 species in the study.
Greater losses in  what the study calls "species richness" is likely to occur towards the southern coast of British Columbia, falling primarily between 48°N and 51°N. But, overall,  species richness along coastal BC will continue—only with different species.
Most significantly the study projects a decline in the overall salmon catch from 17.1 per cent to 29.2 per cent, depending on the region and climate.
All aspects of the herring fishery, including roe herring, spawn-on-kelp, and the food and bait fishery could decline between 28.1 per cent and 49.2 per cent depending on the region.
The future of the oolichan is the most uncertain. One of the models studied projected a further 37.1 per cent decline in the oolichan, while other models called for for a decline between 5 per cent and 6.8 per cent. That will depend on how well, the oolichan already threatened in most regions of British Columbia are able to adapt to warmer waters or find a way to move their range northward.
The study says white sturgeon and Pacific sardines were projected to increase in abundance under both climate change scenarios, while manila clams were projected to increase in abundance by 14.5 per cent in one of the models. The eight remaining species showed little change.
The study suggests that the southern territories (Tsawwassen, Tla'amin, and Maa-nulth First Nations) will likely see a reduction in catch potential between -15.2 per cent and -27.8 per cent depending on how the climate changes.
On the north coast. The Haida and Tsimshian First Nations and those situated along the central or north-eastern coasts of Vancouver Island (Heiltsuk and 'Namgis First Nations)  would likely see smaller reductions in relative catch for each territory, with estimates falling between -3.2 per cent and -8.2 per cent.
The study shows that for the First Nations along the North and Central Coasts of British Columbia (Gitga'at and Haida, and Heiltsuk and 'Namgis) there will be neutral or positive shifts in catch potential for white sturgeon, kelp greenling, and two species of perch under both scenarios.
While varying regionally, both scenarios also suggested either a slight cumulative decline or negligible change in catch potential for clams, rockfish, lingcod, and sculpins across the North and Central Coast.
One potential problem the study suggests is that fishers in southern British Columbia may, in the future, try to move north to follow the harvest, leading to potential conflicts.  The cost of travel, may, however, discourage that.
One of the recommendations from the study is that First Nations revive the traditional clam gardens.
Traditional clam beds serve as an ideal example of a method that could be applied to offset climatic impacts through internalized mechanisms, using local cultivation to generate increased productivity by enhancing native habitat rather than redirecting extraction efforts towards other regions or species. Clam gardens constructed in a manner akin to those situated near ancient settlements of the Northern Coast Salish and Laich-kwil-tach First Nations have been found to generate higher clam densities, biomass, and growth rates than non-walled beaches . These benefits were observed for Pacific littleneck clams and butter clams , two clams that are of cultural, economic, and ecological importance to the region Reinstating clam beds in First Nations' territorial lands has been suggested as a means of simultaneously achieving local conservation and cultural objectives and may thereby provide a politically and ecologically viable option for mitigating climate-related impacts.
The most important recommendation is that the First Nations and other stakeholders start cooperating immediately to offset how the changing climate with affect the fishery:
Management of salmon and herring stocks has been highly contentious due to the myriad of stakeholders who depend upon them, which include First Nations, recreational fisheries, and commercial fisheries….

Aside from fulfilling societal needs, salmon serve as key ecological components of the Pacific Northwest Coast, functioning as the mechanisms by which nutrients are transferred from the ocean to freshwater and terrestrial ecosystems
It says the projections show that a "redistribution of fishing effort" will not "fully offset declines in salmon and herring"
attaining a state of collaboration between First Nations, DFO, and other sectors has the potential to yield beneficial ecological and political results, if implemented correctly. Parallels exist between First Nations' traditional fisheries management approaches and "modern" approaches (e.g., spatial management, mariculture, selective fishing, fishing closures), with differences arising primarily due to diverging worldviews.
It recommends local application of First Nations' traditional management strategies to "provide opportunities to collaboratively engage in adaptive ecosystem-based management and to coordinate efforts to attain conservation objectives."
They give an example of how the Nisga'a Nation have ensured their equal partnership in management by employing traditional fish wheel technology to monitor and assess stocks and by leveraging traditional ecosystem-based management practices that could be applied to plan long-term objectives and management approaches.
It concludes by saying that joint-management will not only work to reduce the impact of climate change but also head off potential conflict.
Through such joint-management regimes, traditional fisheries management strategies could be applied to advance localized research directives and to reduce impacts on stocks under unprecedented environmental change. Moreover, the risk of conflict over declining resources underlines the need to establish common and equitable ground to ensure successful joint management of fisheries, and to leverage collective expertise.

Chart from the study showing which fish species will move north up the coast as the climate changes. (PLOS1)