Special report: Clio Bay cleanup: Controversial, complicated and costly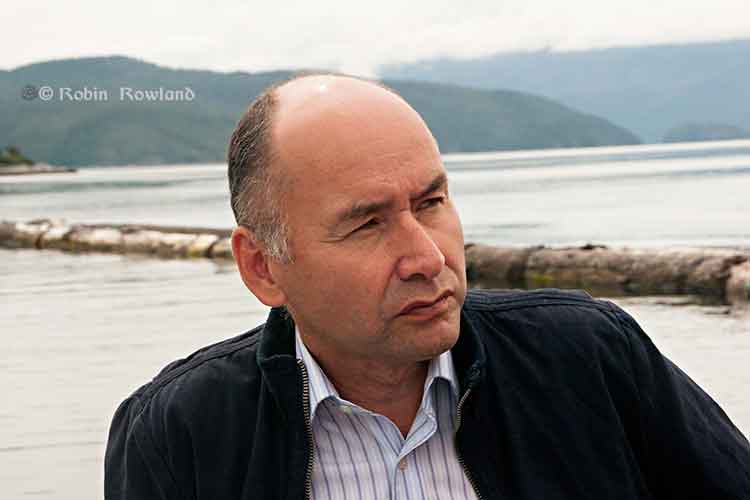 Haisla Chief Counsellor Ellis Ross says that capping the logs at Clio Bay was a Haisla idea, taking advantage of the opportunity to use the marine clay from Bish Cove to bring back the Clio ecosystem.
The Haisla were told by experts who video taped the bottom of Clio Bay that are between 15,000 to 20,000 sunken logs in Clio Bay.
"I know because I've spent a lot of time down there plus my dad actually worked for the booming company for years and knew what was going on out there," Ross said. "There are two extreme areas we're talking about, if you look at Clio Bay where it's estimated that there 15,000 to 20,000 logs down there, imagine what Minette Bay looks like? And it's all iron, it's steel. It's not just wood, there are a lot of cables down there.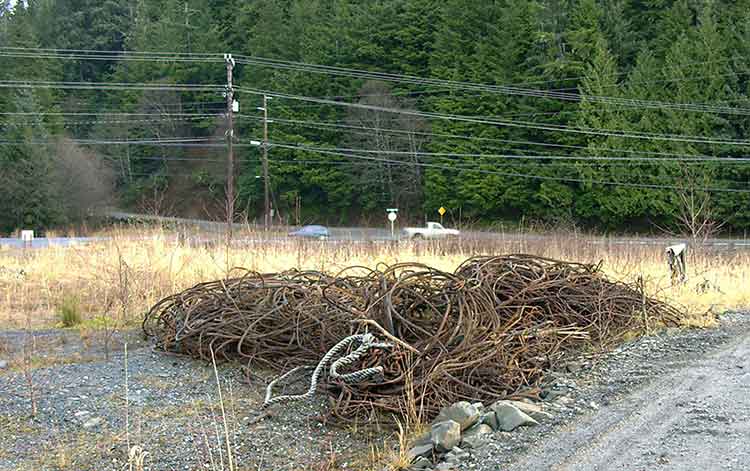 "The Haisla have known about the degradation of our territory for years. The problem we have as Haisla members is to restore the habitiat is that nobody wants to clean up the habitat. This was our idea, after review from technical experts from DFO as well as our own experts. We're looking for a three way solution, with the company, DFO and the Crown and the Haisla."
"I'd love to go and catch halibut and cod, like my ancestors used to."
He said that the Haisla have beem aware of environmental problems from sunken logs for decades and have been asking for cleanup of degraded areas since 2004, not just at Clio Bay, but in the Kildala Arm and at Collins Bay, which were studied by DFO in 1997.
"The logs are down there, they are oxidizing, but no one wants to do anything about it, including the company and including the Crown. We had independent people come in and review it and have them come up with a recommendation. There was a small scale project [involving marine clay] that proved that this could work.
"This system here is killing two birds with one stone, get rid of the clay and try to remediate some of the habitat," Ross said.
He said that the original estimate of marine clay excavated at Bish Cove was 10,000 cubic metres. That has now risen to about 3.5 million cubic metres because the KM LNG project is digging deeper for the foundation of the LNG terminal. The original plan called for disposing 1.2 million cubic metres at sea and another 1.2 million cubic metres on land.
"The original idea was to dump the clay in the middle of the ocean. In small amounts it could have been mitigated, but in large amounts we said 'no.' If we try to dump clay in the middle of the channel, we have no idea where it's going to end up, what the effect is going to be." Ross said. "We did the same thing here for the terrestrial side, we said 'OK that with the rock quarries above Bees Creek,' use the clay to help remediate that as well, bring it back."
Asked about Ward Cove in Alaska, where the US Environmental Protection Agency ordered a cleanup, Ross said. "The difference here is that no one is ordering these companies to clean up the sites, they walk away. No one is taking responsiblity, The Haisla are trying to do this within the parameters they've given us.So if someone could come in and order these companies and do something, we'll look for something else to do with the clay. Until that day comes, the Haisla are still stuck with trying to bring back this land by ourselves. If the District of Kitimat wants to pay the bill, great. Let's see it.
"We need to put pressure on the province or Canada to cleanup these sites. We've been trying to do this for the last 30 years. We got nowhere. Before when we talked about getting those logs and cables cleaned up, it fell on deaf ears [at DFO]. They [DFO] had no policy and no authority to hold these companies accountable. So we're stuck, we're stuck between a rock and hard place. How do we fix it?"
Ross also noted that Shell's LNG Canada project also faces remediation problems, "Shell is going to have the same problem, their's is going to be different, they're going to have get rid of contamination on the ocean bottom and beneath that it's basically going to be gravel, it's not clay, they're going to have get rid of that product."
[rps-include post=5057]