In a news release this afternoon, Pacific Northwest LNG announced that the company has given a positive, but conditional, Final Investment Decision, to build an LNG facility on the environmentally sensitive Lelu Island at Port Edward. BC.
Pacific NorthWest LNG (PNW LNG) announced today that the required technical and commercial components of the project have been satisfied. Consequently, PNW LNG has resolved to move forward with a positive Final Investment Decision, subject to two conditions.

The Final Investment Decision will be confirmed by the partners of PNW LNG once two outstanding foundational conditions have been resolved. The first condition is approval of the Project Development Agreement by the Legislative Assembly of British Columbia, and the second is a positive regulatory decision on Pacific NorthWest LNG's environmental assessment by the Government of Canada.

"In parallel with work to support the Final Investment Decision, Pacific NorthWest LNG will continue constructive engagement with area First Nations, local communities, stakeholders and regulators," said Michael Culbert, President of Pacific NorthWest LNG. "The integrated project is poised to create thousands of construction and operational careers in the midst of the current energy sector slowdown."

Progress Energy Canada and the North Montney Joint Venture partners will continue to invest in its North Montney natural gas resources. The investment to date has proved and probable natural gas reserves of over 20 trillion cubic feet (tcf) with $2 billion-plus invested annually, representing approximately 4,000 sustainable jobs in northeast British Columbia.

"A Final Investment Decision is a crucial step to ensure that the project stays on track to service contracted LNG customers," Culbert continued. "Pacific NorthWest LNG is poised to make a substantial investment that will benefit Canada for generations to come."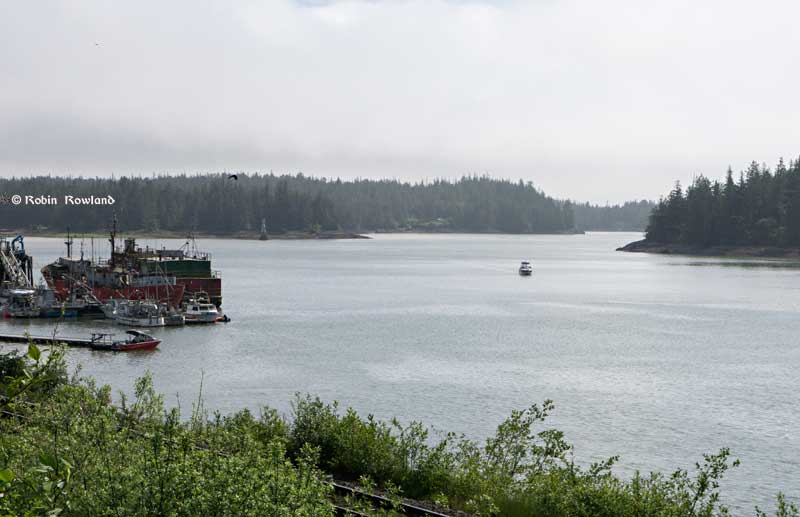 Although Pacific Northwest LNG is first off the mark with a positive, if conditional, Final Investment Decision, putting a shovel in the ground is not guaranteed. Of all the proposed liquified natural gas projects for northwestern BC, the location on Lelu Island, right at the mouth of the Skeena River, is probably the most environmentally sensitive. Even if the Canadian Environmental Assessment Agency does give its approval, probably with a long list of conditions, it is highly likely the decision will be challenged in court by First Nations and environmental groups.
The environmental process was put on hold in early June after the agency asked Pacific Northwest to provide more information about building the terminal. The island sits near Flora Bank, where young salmon shelter in eel grass after coming down the Skeena, taking time to grow before venturing out into the Pacific. Flora Bank has been called the "nursery" for one of the world's most important salmon runs.
The fact that Pacific Northwest LNG has to supply more studies means that any final environmental assessment decision will come after October's federal election.
After initial proposals to dredge the area where met with loud and sustained opposition, Pacific Northwest proposed a suspension bridge and trestle which means the LNG tankers would tie up well off the island in Chatham Sound.
Lelu Island is on the traditional territory of the Lax Kw'alaams First Nation. Members of the First Nation recently voted overwhelmingly against accepting a billion dollars over the life of the project from Pacific Northwest.
Pacific NorthWest LNG filed a report, prepared by engineering and environmental company Stantec Inc., that said there would little or no environmental impact impact from building the $11.4-billion LNG terminal. Stantec's report, however, is unlikely to reassure many people in the northwest because of Stantec's close to ties to the energy industry.  Stantec did major studies for the controversial Enbridge Northern Gateway project, studies that were challenged by other environmental studies opposing that pipeline project.

Petronas holds  62-per-cent of Pacific NorthWest LNG.
Partners are China's Sinopec, which holds 10 per cent, Indian Oil Corp. Ltd. which holds 10 per cent, Japan Petroleum Exploration, 10 per cent, China Huadian Corp., 5 per cent and Petroleum Brunei, 3 per cent.
As well some First Nations and environmental groups in the northwest of British Columbia, in the northeast, Blueberry River First Nations who live in the North Montey natural gas region have said they are worried about increased drilling in their traditional territory are concerned about increased drilling by Progress Energy for natural gas within their traditional territory.
The Blueberry River group says it plans request judicial review of the B.C. Natural Gas Development Ministry's decision to sign the 23-year royalty agreement for the region.